In between unseemly details of Marshall Street Gone Wild and sarcastic cracks on the sanity of rival Big East coaches, we sometimes forget the players we root for, rail against and cover are indeed human and deal with all-too-human problems.
Monday's news that punter Rob Long was diagnosed with a brain tumor was startling to say the least. At the moment, it's reassuring the tumor's benign. However, it's hard to rest easy concerning any type of brain operation.
The Red Sox watched their 20-year-old prize prospect Ryan Westmoreland undergo brain surgery last March to remove a cluster of abnormal blood vessels. The team still hasn't – seven months later – solidified any timetable on his official return to baseball, although last month he finally began live batting practice.
In other words, forget sports for a moment and Long's ability to kick again (one would have to imagine he would get a look in the NFL). This is more about one college kid's attempt at a normal life.
I caught up with Rob before the season at Big East Media Day. He was funny, grounded and competitive – a football player more than a punter. Hey bro – all the best from Team Fizz. You got a cheering section over here.
* * *
Listen to the preseason FizzCast with Rob Long: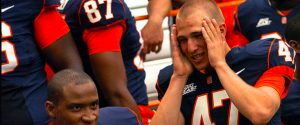 Rob Long may only touch the football a half dozen times a game, but he's Syracuse's best player. He's a weapon to pin opposing offenses inside the shadows of their own goal posts, a senior rep at Big East media days and a has a blog in his own name.
The Fizz caught up with Rob in Newport to preview the season.
Has he read the Syracuse blog "Superman Wears Rob Long Underoos?"
"I ran across it my sophomore year. I thought it was pretty funny. I talked to the kid that started it up, he's a nice kid."
What happens when he graduates? "Somebody has some underoos to fill."
Has he spoken to Superman about this yet? (laughs) "Not yet. I'll probably have to give him a call later on today, see how he feels."
The roster turnover since Doug Marrone took over two offseasons ago:
"Team unity has been much better than it has been in recent years. It is tough when you have kids who just want to do what's best for themselves. It's tough when you have kids with that mindset. We just don't have that anymore. It's good that we've gone away from that."
Was it those types of attitudes that were cleansed from the program?
"Coach Marrone didn't force anybody to leave. It was everyone's own decision to leave. Whether it was through their words or their actions, every made their own choice. Everyone knew the rules."
Are the players here now the ones that always wanted to be part of the new regime or did Marrone mold them into that mindset?
"The guys that stayed definitely wanted it to be about the team, I can't speak for the guys that left. We really understand that as the team succeeds the individual recognition will follow."
Posted: D.A.
(adsbygoogle = window.adsbygoogle || []).push({});