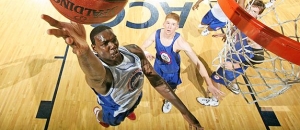 The Fizz would like to say goodbye (for now) to Villanova's JayVaughn Pinskston, who was suspended for the remainder of this season after being arrested on assault charges.
The details from this story prove to be a sad tryste of Sig Ep proportions. Per The New York Daily News:
"According to an eyewitness at the party who requested anonymity, Pinkston was angered when he was locked inside of the house's laundry room during a romantic encounter with a girl.

"[The frat guy] propped a chair against the door so they couldn't get out, but eventually he did get out," the witness said. "He [Pinkston] was [mad], but nothing became of it at the time. He was just yelling."

"[The first frat brother] was taunting him [about the laundry room], said it was disrespectful and then Jayvaughn turned around and punched [him] in the face," the witness said. "[He] started bleeding a lot. It turned into a whole brawl. . . . Someone hit [the second frat brother] and he went unconscious. He woke up before he went to the hospital."
Well this makes sense. Dude sleezes his way from the dance floor to the laundry room. Dude gets practical joke played on him. Dude doesn't like practical joke being played on him. Fight ensues.
There's more, though. This story twists deep into the realm of last year's publicized, pre-Decision prima donna recruiting class. Looks like JayVaughn had some deep-rooted issues stemming from last year's early signing period.
Who remembers the Pinkston-Tobias Harris- Tennessee-'Nova love quartet from last year? The Fizz does. From an article on Brandon Knight, I responded to a commenter with the complete low-down:
"When Harris took the last-minute trip to Knoxville on his way back form GA Tech, something clicked with him and Bruce Pearl. Originally, Jayvaughn Pinkston was expected to sign with the Vols.

However, the next day, Pinkston mysteriously reneged and pushed his signing back. The writing on the wall said that Pearl preferred Harris over Pinkston, and gave Harris the open scholarship."
Pinkston went on to 'Nova and the rest is history. This saga is more tangled than Couzens'  "John Tucker Must Die" corollary.
The bottom line: Tobias forced Pinkston to Villanova. Pinkston got into a fight at a Big-5 frat house, and the rest is history. Harris is a star at UT, doing everything right for a coach who has done everything wrong in the last year.
It only opens up more questions. What if the last-second visit to Knoxville doesn't happen? What if Pearl had been caught in his recruiting violations earlier? All hypotheticals, but doesn't change the fact Pinkston is in hot water under Jay Wright.
Here's saying goodbye to the guy who was screwed by Tobias' 11th hour trip to Knoxville, and subsequently ended up in Philadephia. Pinkston's AAU coach at the time said this about him last year: "It'Äôll be hard to keep him off the floor.'Äù He found a way to do it all on his own.
Posted: Ted Conroy
(adsbygoogle = window.adsbygoogle || []).push({});