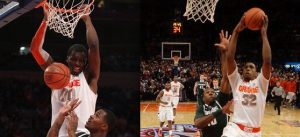 "Not sure anyone saw this margin coming. SU fan came up to me heading to MSG and saw double-digit loss. Clinic for Syracuse tonight." Andy Katz tweet, Tuesday night.
That sums up many of our thoughts on last night's 72-58 win over Michigan state the best.
Not only did I not see that margin coming, I thought Syracuse would be on the other side of a crooked number. Sloppy and inconsistent play had been the trademark of SU through the first eight games, and that didn't go away Tuesday night. The damage of it was just limited.
In defense, what could have led anyone to think that the Orange had a win like this up its sleeve? SU always had the potential to do it, but the shock was making such a big turnaround in one game against an elite opponent. Following the game, Jim Boeheim emphasized getting over that proverbial hump (even if it's self-inflicted) needs to happen sooner rather than later.
"The problem with college basketball is that anybody in the Top 30 can get (to this level). It used to be the top 10, but now anybody can get there. We've got ten teams in our league that can get to the Final Four. We're going to need to play at a higher level if we're going to be successful."
The Per'fesser said his early season rip job of the team wasn'Äôt about calling the team out, just telling it like it was.¬†Consider it his version of that strange Facebook numbers game fad. Jimmy B keeps it 100.
For people who had never watched a Syracuse game prior to tonight this season, the big story will be Rick Jackson:
"Slimmed down"  - "Undersized" – "Neumann-Goretti"
But for those of us who know Rick from watching him play, a seventh double-double in nine games wasn't surprising, just really impressive. He's not only been working with Arinze Onuaku on his presence in the paint, but with Derrick Coleman.
"He's telling me to post harder, stay low – I can't even think right now. So much stuff… I seen him before the game and we had a little talk about the game. He's just been great."
Jackson scored almost all of his points on dunks, and that was just because nobody could move him off the blocks. Tom Izzo:
"We let them dominate us on the boards. We turned into a pretty boy jump shooting team instead of a blue-collar fist-fighting team.''
Syracuse outrebounded Michigan state 38-30, and Jackson had 16 of those. ¬†If MSU really wants to get back to being more of a 'Äúblue-collar fist-fighting team," they need to bring back my basketball idol, Paul Davis (may his basketball career rest in peace).
Does the Orange still have issues to overcome? Absolutely, but SU found a way to minimize the mistakes and put band-aids on all of its bruises on the biggest stage yet. The Spartans had only lost to Duke (the country's best team), and Kemba Walker-led UConn.
On a night when there were 60 NBA scouts in attendance, Syracuse picked a good night to have it's best game of the year.
Posted: Mike Couzens
(adsbygoogle = window.adsbygoogle || []).push({});