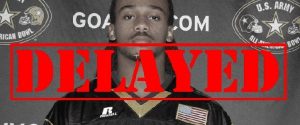 Ishaq Williams has delayed his decision until next week. The Fizz confirmed late Friday the elite defensive prospect will not make an announcement as part of the All-American Bowl festivities today. He is no longer included by the bowl organization's "commitment list." Ishaq is one of the highest-rated recruits in recent Syracuse history and is clearly the biggest-profile prep star in Doug Marrone's tenure.
Ishaq had planned to make his announcement today, but decided Friday to extend his window. How many schools he's down to is still being debated. ESPNNewYork believes Miami is still in the mix. The New York Post reports "Notre Dame, Syracuse and Penn State remain the only three options. There have been rumblings Williams would visit Miami, but that is not the case."
Williams' high school coach finally spoke after a week of silence from Team Ishaq. Lincoln's Shawn O'Connor said last night Ishaq is not reopening the process, will focus on today's game and take "another day or two" to decide.
It appears the Hurricanes are on the outside looking in. Most sources believe Miami entered too late, although the All-American Bowl has a statement from Williams saying that the Hurricanes are still in the mix.
The Fizz spoke last night to Pete Sampson of Irish Illustrated, who has been in San Antonio this week with Ishaq.
'ÄúLess than 24 hours before kickoff, Williams said he still hasn't made his college choice." Penn State reentering the mix has been a surprise, since it appeared the Nittany Lions were eliminated weeks ago.¬†It may even be PSU that Ishaq refers to in the following statement:
"There's some information that came up and I want to make sure it settles out first. I'm just waiting for everything to stabilize at a particular school. I can't really discuss that, sorry."
The Fizz believes Ishaq is referring to Penn State'Äôs defensive coordinator Tom Bradley, who WTAE in Pittsburgh reports will be named head football coach at Pitt. Ishaq may be monitoring who takes over the DC position if Bradley is hired by the Panthers. From a Syracuse perspective, this is disheartening news. It likely means Penn State made a late push to jump back into the fray, when for all intents and purposes Paterno's Crew had been crossed off.
As Ishaq news develops, follow @orangefizz for up-to-the-minute updates. Team Fizz is continuing to work the story. As a request, click here to vote for The Fizz's own Damon Amendolara – Syracuse's representative – in the Volvo Big East Challenge. There's no f*cking way UConn should be winning this thing.
Posted: D.A. and Andrew Kanell
(adsbygoogle = window.adsbygoogle || []).push({});