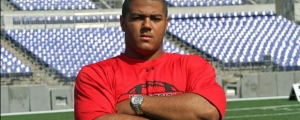 Kevin McReynolds is the hottest prospect left on the 'Cuse's radar. He's a 4-star defensive tackle from Washington, DC, and many people argue he could make an impact equal to Ishaq Williams. He's a complete beast according to his high school coach Joe Patterson. The Fizz spoke with Patterson yesterday, coach at St. John's College High shcool.
"Kevin is a very strong player. He benches over 400 pounds, he does a good job of occupying blockers and holds the point very well."
He benches over 400 pounds? Are you kidding me? McReynolds himself weighs in at around 280 pounds to compliment a 6'3″ frame. Patterson made sure to emphasize his sheer beastliness.
"He'Äôs certainly the strongest player that I'Äôve coached. He'Äôs been a 3-year starter for us, so he'Äôs certainly been a contributor for us."
A contributor indeed, McReynolds was sidelined for a considerable portion of the season with an ankle injury, but still showed amazing potential when he played. Patterson also said he can and has shed double teams with ease as well.
Prepare for The Fizz's acclaimed National Signing Day coverage just over 2 weeks from now. On Feb. 2nd Team Fizz will have you covered with live blogging and interviews with the commits all day long. Also, cast your Syracuse vote in the Volvo Big East Challenge. Grass roots movement – it's go time!
The Post-Standard believes it's between the 'Cuse and UCLA. Other sites have suggested he still operates with a list of six teams. Either way, he's the current available big fish in the class of 2011, and he's been on the Fizz's radar for awhile. Just a few weeks for Signing Day means K-Mac has the magnifying glass on his decision.
Team Fizz has done some math on the magnitude of McReynolds' strength via food and drink.
McReynolds can bench 1200 McChickens.
He could put up two and a half full kegs.
McReynolds could bench more than 300 Chipotle burritos, if he chose not to eat them first.
He's an absolute monster, and would be coming in at just the right time. SU is replacing three experienced interior linemen with Jay Bromley, Deon Goggins, and Cory Boatman next year. While we're confident those three can plug the trenches, it's never a bad idea to keep the Incredible Hulk in your warchest.
Posted: Ted Conroy
(adsbygoogle = window.adsbygoogle || []).push({});