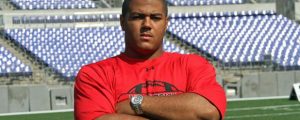 The good news is with just four days to go until National Signing Day, Kevin McReynolds says Syracuse is definitely in the mix. The bad news? It still feels like so is half the country.
The four finalists seem to include the Orange, Mississippi State, Kansas State and UCLA. The four-star DT and biggest target left for SU has gushed about the Carrier Dome, however he seems to be awed by most of his recruiting experiences. ESPN.com said he was "blown away" by his official trip last weekend to Starkville, Mississippi.
The Fizz is your only home for National Signing Day. Wednesday, Team Fizz will be live blogging all day, with interviews from all of the Syracuse commits and tracking the entire Big East from morning until night.
At the 11th hour McReynolds told Oregon he would finally visit, but the Ducks called his bluff and pulled out of the process. Nearby Maryland was never a consideration, but after the hiring of Randy Edsall McReynolds said he was suddenly intrigued.
The Fizz spoke with a recruiting source who expressed concern about McReynolds' constant chatter.
"Kevin seems to be really loving all this attention. And who could blame him? But how much do you believe is the question.

The Oregon thing is interesting. They were trying to get him out to Eugene forever. Never took the trip. Then finally last minute, he says okay. Obviously, Chip Kelly is a little hesitant because lots of recruits just take the free trip to see their famous facilities without having any real interest in going there. They kinda forced Kevin's hand and he caved.

He went to Mississippi State that weekend instead. And now he's 'blown away' by Mississippi State? Then Maryland was not even near the radar and out of nowhere he mentions how much he loves Edsall and the Terps. Just makes you wonder if he's playing to the crowd and if he's saying things just to say 'em."
The hulking defensive tackle complimented the Orange after his visit. "Syracuse is certainly in the mix. I enjoyed everything about my visit there except the five-hour delay at the airport when I was trying to get home. I'd say all four schools are equal right now."
In the piece by ESPN.com McReynolds was highly impressed with the Bulldogs last weekend, "That program is going in the right direction. It's amazing how coach [Dan] Mullen has turned it around. It's an atmosphere for success and I can definitely see myself there."
Hopefully the Orange is a real contender for K-Mac. Imagine what the fleet set of SU linebackers could do with a human fire hydrant like McReynolds anchoring the middle of that defensive line. But with all of the quotes coming from McReynolds it's impossible to feel totally comfortable about where Syracuse stands.
Posted: D.A.
(adsbygoogle = window.adsbygoogle || []).push({});