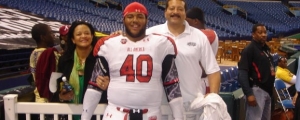 While following the decision-making of Ishaq Williams was nearly impossible, tracking Kevin McReynolds thought-process has been far easier. Why? Unlike Ishaq, he's updating us on his Twitter account.
Thanks to the feed, we know he visited Mississippi State this weekend and enjoyed the southern hospitality (being from the South, I can tell you southern hospitality is a real thing. And it is awesome).
Prepare for The Fizz's acclaimed National Signing Day one week from today. On Feb. 2nd Team Fizz will have you covered with live blogging and interviews with the SU commits all day long.
He told ESPN earlier in the week that all four schools (Syracuse, UCLA, Mississppi State and Kansas State) are equal. The Fizz spoke to a source this morning who believes Syracuse chances "are very good" at nabbing the behemoth DT. (Before we go any further, we must ask – Kansas State? Really? Pinstripe Bowl. Salute.)
Yesterday though, McReynolds threw in a new twist. Straight from his handle @LifeOfKM –
"I may commit signing day but may not sign."
Considering the experience Syracuse has already had with defensive standouts delaying a decision, this is cringe-worthy. Before you lose your heads though, there was the next tweet.
"Only a small possibility thou"
Whew. Would hate to go through that again.
While Ishaq got quieter the closer it got to signing day, leaving us dying for new info, McReynolds has seemingly opened up. Last night there was this:
"Had great meetings with Ucla and Syracuse today. Mississippi state is coming tomorrow. These schools are making it tough on me"
While we'd love for him to tell us: "Met with a few schools. All of them sucked by Syracuse. Probably going there," the Orange is still in a great position.
A massive snow storm is blasting the D.C. area, leaving McReynolds with home from school and lots of time to tweet this morning.
"No school. Stuck in the house coach mullen may have a problem flying his private jet in to see me because of the massive snow storm"
I wonder if HCDM has a private jet. If he does, thousand bucks says there are bologna sandwiches served on board!
"Kansas state just left the house now Mississippi state"
Hmm. No "that went great" comment? Salute.
Whether it be a signing or just a commitment, we will know where McReynolds is headed next Wednesday. Syracuse football is hoping to echo President Obama's words last night. 'ÄúWe do big things.'Äù
In McReynolds case – big, large, gargantuan things.
Posted: Craig Hoffman
(adsbygoogle = window.adsbygoogle || []).push({});