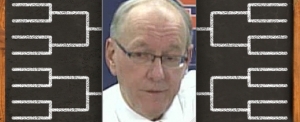 In the wake of Boeheim's Media Offensive this week, Syracuse's rough road to the NCAA tournament has been ignored. When you start looking at the numbers, it's not a lock the Orange are heading to the Big Dance.Quick, off the top of your head, who has a better record in conference: Syracuse or St. John'Äôs?
Answer: The Johnnies.
Who has a better overall record: Cincinnati and West Virginia? And of those two, which team has a better conference record?
The Bearcats have a better record, but a lower RPI (43 to WVU's 23). Big East record is a trick question. They're both 7-6 in league play.
Just how good have Pitt and Notre Dame been? Combined the Panthers (2) and Irish (4) have the same number of losses Syracuse does.
Only four games remain for SU in the Big East slate and only one of them is a given: DePaul on the final weekend, a team sporting an embarrassing 0-12 record in conference and without a win since before Christmas. Next up for the Orange are games against Rutgers, Georgetown and Villanova (SU is 0-2 against those teams so far).
ESPN'Äôs Joe Lunardi, who, to most of idiot America actually is the NCAA selection committee, currently predicts eleven Big East teams in. But the highest number of teams from one conference was only eight; the Big East did it in '06 and '08. Even with an expanded bracket it's hard to imagine all three extra spots going to the B.E.
Eleven in, Joe? Okaaayyyyyy, that's not happening.
Thursday's conference standings have Syracuse in 8th place behind St. John's and just in front of a very hungry Cincinnati team (which showed that if defense is played against Louisville, victory is not impossible) and a talented West Virginia outfit.
Those two teams could leapfrog the Orange if Syracuse continues its slide. How difficult is it to stave off late season charges from those two teams and remain in the the top eight teams of the conference?
Cincinnati finishes with Providence, Georgetown, Connecticut, Marquette and Georgetown again. Average RPI = 38. Opponent Winning Percentage = 68%.
The coming games for West Virginia are Notre Dame, Pittsburgh, Rutgers, Connecticut and Louisville. Average RPI = 49. Opponent Winning Percentage = 76%.
Syracuse's final four foes: Average RPI = 87. (Thank you, DePaul.) Opponent Winning Percentage = 58%.
SU has the easiest road to remain a lock for the NCAA tournament. Beat who you'Äôre capable of beating, and the committee will have no problem punching your ticket. But remember, Rutgers has already beaten Villanova on the "Prayer in Piscataway." Georgetown has only lost twice at home the entire year (and backup center Henry Sims is running for student government vice president).Villanova'Äôs sharp shooting downed the Orange in their first meeting. And DePaul, well, yeah Syracuse is not losing that game.
The Orange road to the NCAA tournament is not smooth sailing, but at least the numbers are on SU's side.
Posted: Mike Couzens
(adsbygoogle = window.adsbygoogle || []).push({});