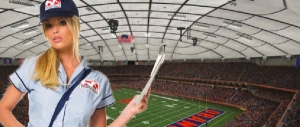 The Fizz recently¬†celebrated one of its most popular series ever, a week long spotlight on the incoming basketball class for 2011, including exclusive interviews with all of the Three Amigos. Along with the salvation of Syracuse's basketball season, it was a week of optimism around here. On the incoming trio of Trevor Cooney (who says he's studying the current guards), big man Rakeem Christmas and 6'5″ point Michael Carter-Williams:
"Good plan, Trevor 'Äì study the play of Scoop, Triche and Dion 'Äì and then do the exact opposite. Then you'Äôll be a great player.¬†Ok, so I'Äôm a little rough on the performance of our guards this year." – Anaheim Orange
"Cooney sounds like gym rat that will buy into zone. If he can shoot 3, he will play.¬†MCW sees much time as point. JB will love 6'Ä≤5'Ä≥ PG on top of zone.¬†Rakeem will get serious minutes as shot blockers always welcome in back of zone." – DocAlKy
With only Rick Jackson a guarantee to leave and three freshman that will push to play right away, the Orange may have one of its deepest teams in Boeheim's 35 years next season. The storyline of who's the odd men out will dominate next year's preseason. This much is certain: something has to give. Transfers? Benchings? Early departures? Keep reading.
SU's two huge wins against rivals Villanova and Georgetown highlighted the recent resurgence. As for Boehiem's media assault that began this hot streak?
"I don'Äôt think what Boeheim said effects whether the ball goes through the hoop or not." ¬†- Evan
Certainly The Per'fesser's quotes don'Äôt directly effect it like say, the release point, velocity, etc. But anyone who'Äôs played basketball knows it's a mental game. What the brain thinks, the body does. If you think the ball is going in, it'Äôs more likely to. If you don'Äôt think it'Äôs going in, it doesn'Äôt have a shot. So with this theory in mind, if what Boeheim says inspires confidence in his troops, it definitely has an effect.
"I think they should play James Southerland more, he is good." – Kevin
Kevin wrote this after the Villanova game and low and behold he got his wish against Georgetown. When Southerland rebounds and defends, there's no doubt he should get more run, but it's proven CJ Fair provides more in those departments than Southerland, That's why unless James plays like he did Saturday, he will continue to find himself on the pine.
"I think Scoop will be encouraged to leave like Paul Harris was. Rick will be gone. I think Mookie may transfer to a small school. I think Joseph will probably have to come back unless he wants to be playing in Europe'Ķ but if he'Äôs gone the 'ÄòCuse will survive." – Bill
A response from another reader. *pauses to dance*
"Scoop wont leave. RJ will be gone, but Waiters is his cousin. Those two will want to play another year together. Jimmy also likes Scoop, they havent clashed like Paul Harris and he did." – Carlton
I tend to agree with Carlton on Scoop. Jardine loves his teammates and while Rick will graduate, Scoop won't leave his buddy Dion out to dry. For as good as Jardine may think he is, he knows he's not an NBA Draft prospect.  I doubt he's as clueless as Eric Devendorf was in that department.
As far as K-Jo, I'm not 100% convinced he'Äôs staying just yet. Consider this: How many true 6'Äô7'Äù guys with length fit the prototypical NBA small forward? Not many. If he explodes in March, he'Äôs gone. Joseph's hurt by less than average ball handling for an NBA prospect and limited range (can'Äôt make the pro three consistently). He could also stand to add a few pounds to his frame. He probably stays, but it's not a certainty yet.
Every week The Fizz responds to your feedback. Email us, reply to our Twitter feed and most importantly comment on our posts below each story. Thanks for reading The Fizz.
Posted: Craig Hoffman
(adsbygoogle = window.adsbygoogle || []).push({});