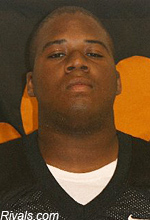 Ryan Sloan thinks John Anselmo is crazy, in the best way.
"You can tell he just has that personality, that if you mess up, you're gonna hear about it, you're gonna keep hearin' it until you fix that problem or mistake."
Sloan, who committed to Syracuse on National Signing Day, is used to the structure that SU has talked about in reference to the program. The kid just wants to be coached.
One of the biggest questions about Sloan was what position he would play. At 310 pounds, he could step in and work the offensive line, but SU targeted him for gap-plugging duties on defense, which Sloan has accepted. That carries with it a new regimen for physical specs.
Listen to Ryan Sloan discuss becoming a member of the Orange:
"Obviously I had to drop a couple of pounds which I'm in the process of doing right now, I've lost about 10 pounds."
Sloan is one of 11 players from New York State to join Syracuse on National Signing Day.
Posted: Ted Conroy
(adsbygoogle = window.adsbygoogle || []).push({});