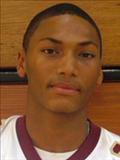 It's a bittersweet time for Christ the King quarterback Terrell Hunt. His father passed away yesterday, and his mother died exactly one year ago.
But today he also signed a letter of intent to play football at Syracuse University. He will have the opportunity to play football for a school in a BCS conference, and receive an outstanding education for free.
Listen to Terrel Hunt open up about the death of his dad:
Hunt told The Fizz that he will do his best during his time at Syracuse to live his life in a way that will make his parents proud.
"My whole life they were pushing me. Now it's time for me to push myself."

And Hunt will have to give everything he has if he wants to eventually earn the starting quarterback job. He'll be competing against a lot of other talented players. His formula for success is simple: hard work.
"Sometimes when they're sleeping I gotta be the one working. I gotta read a lot of defenses, stay in the film room and the weight room a lot."

As good as Hunt is on the gridiron, he's also a standout basketball player for Christ the King. Could we see him donning an SU basketball jersey at some point, à la Donovan McNabb?
"I always talked to my father about that. He told me he wanted me to, so I might end up doing it. But I want to focus on trying to start first before I do anything else."
Post: Andrew Kanell
(adsbygoogle = window.adsbygoogle || []).push({});