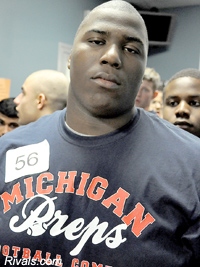 Eric Crume isn't a five-star recruit who's had schools worshipping the ground he walks on since he was in middle school. Being grounded comes across in his personality when you talk to the big man. When reflecting on signing his letter of intent this morning, he was simply grateful.
"It was a great experience. I'm so ecsctatic. I get a chance to play Division-1 football."

Crume, a defensive tackle from Detroit Central High School in Michigan, said there were a few main factors in his decision – academics, the coaching staff, and the status of the program. He joins Ivan Foy as incoming defensive tackles the Orange hopes adds depth to a position of need.
"There's a rare chance that anyone's gonna make it pro in any sport. You gotta get your degree in order to be successful in life."
Listen to The Fizz speak with Eric Crume:
On top of the academics, Crume was sold on Coach Marrone and his staff.
"The coaches made me feel really welcome. I think they can give me the tools to be successful on and off the field."
Crume is everything Marrone looks for in a player off the field, and hopefully for the Orange he can be just as successful on it. He even finished the interview with an emphatic "Go Orange!"
The Syracuse coaching staff already likes this guy. I think Orange Nation will too.
Posted: Craig Hoffman
(adsbygoogle = window.adsbygoogle || []).push({});