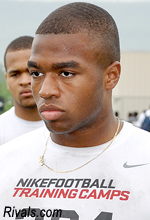 There has been a constant theme in talking to recruits today. Nearly all of them have talked about how much they loved the family atmosphere and what Doug Marrone is selling. DE Donnie Simmons felt the same.
"Once Doug Marrone came on to the scene, I knew he had a mission for this team to pursue greatness."
With greatness on the mind, it's Simmons body that has people concerned. He's listed at just over 220 lbs, which is slender to say the least for a defensive end with a 6'2″ frame.
Simmons though, isn't concerned, knowing how productive a college weight program can be.
Listen to DE Donnie Simmons talk about his decision:
"I'm definitely excited to see what Syracuse's health program has in store for me. I'm confident I can fill out my frame."
Although he's not the speed end we were all talking about, he does add more depth to a defensive line that added some significant pieces today. Yet another solid recruit in the books for Doug Marrone.
Posted: Andrew Kanell
(adsbygoogle = window.adsbygoogle || []).push({});