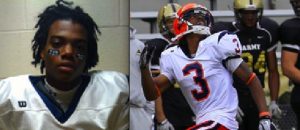 DeFarrel Davis is the latest mind-boggling example of a player who couldn't even put a year's worth of mediocre grades together in order to wear orange. The wide receiver at Nassau Community College was the biggest enigma of the 2011 recruiting class, on the field and off. His four-star rating by Scout stood out, until you looked at Rivals and saw a grade of two stars. That's just another example of how subjective and usually meaningless those ratings end up being.
However many stars he deserved, Davis' stats at NCC were suspiciously far from gaudy for a guy who was supposedly one of the better JUCO players out there. Nineteen catches, 325 yards, two touchdowns. Stats never tell the whole story though, and Team Fizz was willing to believe that Davis had value if Doug Marrone did.
And the head coach was going to give the wide receiver a shot until, like countless players before him, he blew it in the classroom.
That's something Jermaine Miles, his coach at Nassau, readily admitted.
'ÄúMiles said SU pulled the offer because of academics, and "rightfully so."

"He was in an empowering situation," the coach said of Davis' status last fall. 'ÄòThen he took himself out of position."
He "took himself out of position." Incredible, when you think about how few get the chance to be in that position in the first place. It's amazing how often student athletes manage to throw away golden opportunities.
Most recently, The Fizz has attempted to follow the paths of Dom Timbers and Dale Peterman. Timbers is one of four players who didn't qualify academically in Syracuse's 2010 recruiting class. He then promptly disappeared off the face of the Earth.
Peterman, originally from the class of 2009, also seems to be sinking further into oblivion. He played his freshman year at Georgia Military College, then transfered to City College of San Francisco for his sophomore season. Now his D1 college football hopes are seemingly gone.
It's no secret, some high-profile college athletes largely ignore the 'Äústudent'Äù part of their title – and that happens at SU too. Still, most of them find a way to¬†work things out in the end,¬†and get done what needs to get done.
To abandon one's studies altogether is different. It's not very hard a merely pass a course, regardless of the school it's taken at. Yet, some guys continue to screw up that opportunity to play athletics and receive a free education. Add Defarrel Davis to that list.
Posted: Andrew Kanell
(adsbygoogle = window.adsbygoogle || []).push({});