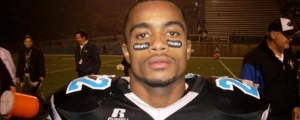 It feels like just yesterday Pittsburgh-area 'Cuse commit Dom Timbers told The Fizz how excited he was to be coming to Syracuse. Mysteriously, he never made it to campus and now his whereabouts are unknown.
Chancy Nancy's amazing academic standards came back to bite that commitment. And with Averin Collier gone, the Orange needed an ace in the hole at running back. Thankfully, SU nabbed Adonis Ameen-Moore potentially as a replacement to workhorse Delone Carter.
But there's still a lingering problem Рwe have no idea where Timbers disappeared to! Timbers wasn't eligible, and is ambiguously mentioned to have gone to a California community college.
Timbers isn't the only SU player who didn't qualify for the 2010 season. Myles Davis, Jeremiah Kobena, and Dayshawn Davis all hit the road. But they went the familiar route for Syracuse recruits, to Milford Academy. In case you didn't know, it's pretty much the halfway house for Orange players in academic purgatory.
But Timbers did not, which alerted the internal "something's wrong" spidey sense. Scour the internet and you'll find plenty on his Syracuse recruitment and "breakout player" status during his last three high school seasons. The Fizz even blogged about his dismissal from high school for an untucked shirt. However, nothing pops up on his concrete whereabouts.
At that point, the Fizz hunt was on. We busted out the magnifying glass and optimized search engine to track down our missing tailback. The grand plan was to finish up some work and take the family on a vacation, but the disappearance of Timbers ate at me. No sleep. Relationships crumbled. D.A. almost removed me from Team Fizz. I was in too deep, too emotionally invested in finding the guy who appeared to be such a good kid when we spoke over the phone on Signing Day.
After a half-hour of different inputs to Google, finally there was a nugget. Nolan Weidner reported Timbers was going to City College of San Francsico. The case was solved.
But he's not on the roster. Search his name in the website; zilch, nada.
Interestingly enough, I did find Dale Peterman, the high-profile cornerback who also gave his verbal commitment to SU last year. Nice to know where he's been this season.
But we're reaching out to Fizz Nation. Where is former prized running back Dom Timbers? The Orange could certainly use the depth at running back. Let's bring Dom back home to Syracuse; this case needs closure.
Posted: Ted Conroy
(adsbygoogle = window.adsbygoogle || []).push({});