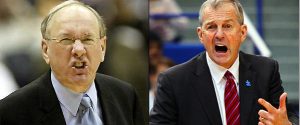 Jim Calhoun is a better coach than Jim Boeheim, and that makes me sick. I take no pleasure in writing that sentence. In fact, my stuffed Otto is now sneering at me. Pangs of nausea are coursing through my body. I'd rather have Jake Voskuhl posterize me via monster dunk with his crotch in my face than admit that. But it's true. Sadly, it's true.
I laughed at the Huskies when they played on the opening Tuesday of the Big East tournament. Awesome. Honorary DePaul Tuesday was now the starting point for UConn too. Even after the five-in-five run at Madison Square Garden, they'd be too gassed for any decent NCAA push. I'd traveled to Hartford on a frigid January afternoon to watch them struggle to beat a mediocre SEC team on national television in Tennessee. Kemba was good that day, not great. Alex Oriaki should've dominated the Vols light frontcourt. He did not. The Huskies were too inconsistent, too young, the specter of the violations and NCAA punishment was hanging over Calhoun too heavily. This would be a March quickie for UConn.
And then it happened. It all happened. And suddenly Calhoun-Bot 3000 was hanging his third national championship banner since the late '90s. The Huskies were wearing those stupid "No. 1" hats (which will be the Zubaz of this era). A program dripping with the oil of recruiting violations won the whole damn thing. Ew.
The Per'fesser and The Old Dog have more in common than us in Orange Nation would like to admit. They're in their 60s, tenured at Big East schools for over 25 years, cranky, creaky fossils in an age of "the next hot young coach." They antagonize local media. Hiss at critics. Act defiantly and bully those who say they're too old. They've won, won big and won a lot. Syracuse and Connecticut is the premier rivalry in the conference. They always seem to meet in a big one in Manhattan. They're both in the Hall of Fame.
But there's one huge difference. Calhoun wins when it matters most. We continually lament The Per'fesser's penchant for early exits while Calhoun-Bot just keeps cutting down the nets. Oh sure, we can chalk this title up to one great player carrying the program through a weakened bracket. But how is what Kemba just did much different than what Carmelo accomplished?
Just look at the stats. It's not pretty.
Titles. Calhoun: 3 ('99, '04, '11). Boeheim: 1 ('03).
Final Fours. Calhoun: 4 ('99, '04, '09, '11). Boeheim: 3 ('87, '96, '03).
Elite 8's. Calhoun: 9. Boeheim: 4.
There's always qualifiers. Had Derrick Coleman made a free throw, Arinze Onuaku not blown out his ACL, who knows. UConn has had a few early departures, like bowing out in the first round against San Diego three years ago. Calhoun will embarrassingly sit the sidelines like a kid in timeout for three games next year as coach of the defending National Champions. You can just hear the howls from the Tully's bar, "If Boeheim cheated like Calhoun, how many could he win?!"
But after a third title in just 12 years, it's painfully clear. Jason Hart, Ryan Blackwell and Etan Thomas were juniors in '99. Since that season, Calhoun-Bot 3000 has won three titles, had four Final Fours and six Elite 8's, while Boeheim's Bunch has gotten past the Sweet 16 just once (and won it all), yet suffered Vermont, Texas A&M, Butler and Marquette. From the mid-80's through the late-90's, The Per'fesser won this matchup hands down. But if we're talking modern day, it's clear. Calhoun does it better.
Ugh.
Posted: D.A.
(adsbygoogle = window.adsbygoogle || []).push({});