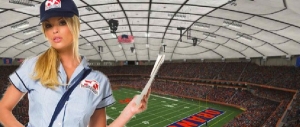 Holy Boeheims! With the Spring Game just a week away and yet another title for evil Calhoun-Bot 3000, it was a heavier week than most here at the Fizz Feedback Center. Remember follow us on Twitter for instant news on the Orange and tweet us any time, we'll be sure to respond.  It wasn't just the comments that were notable this week though, it was the venom that they were filled with. Most was directed at coaches and players, some of it even at us here at The Fizz. Clearly another UConn championship and a never-ending winter has driven us all mad.
The Fizz's Dave Van Moffaert talked to former SU defensive tackle Bud Tribbey this week and discussed Marrone's reign.
"Yes, as you say, winning is contaigous. If the recruiting goes well, then maybe a packed Carrier Dome for football isn'Äôt out of reach." @V8TBirds
We can only hope. The fans that showed up were loud this season, but were treated to unsatisfactory results since SU kept stubbing it toe at home. The most intense football talk this week was focused on Kanell's article dissecting Brice Hawke's dismissal. The clear message from Fizz Fans was don't mess with The Dougie!
"You'Äôre making something out of nothing. In fact, the whole piece is a bad analysis. Every program has dismissals, defections. Marrone does not need to tell the media or other players why players are dismissed. The players know the rules and Marrone'Äôs parameters and if someone is dismissed they can probably figure it out for themselves." – Marty H.
How can the coach make an example out of Hawkes if the players don't know what he did? I talked to players and they absolutely have no idea what happened. Was Hawkes in trouble a lot? Yup. Do we (media and fans) have the right to know what happened? Absolutely not. But should the players know? Absolutely, no question.
"Its definitely a numbers game. Out of 85 kids, youre going to have some bad apples. You cant even get 5-10 on a basketball team without some of them running afoul of trouble in their 4-5 years. BUT 'Äì I think with a football team, you'Äôre much more likely to let a kid with behavioral or academic problems go, because there'Äôs typically 2 deep in his position on most teams. You dont have the option nearly as much with a basketball team, depending on the player." – Roger Barbarumbus
This is a valid argument (bonus points for logical thinking!). When you're dealing with nearly 100 college kids, there's bound to be something that goes wrong. The question then becomes is Marrone being too harsh or handling the dismissals improperly by not telling his team?
"I mean, you'Äôre really going to tell me that you don'Äôt think that players can put on an act for coaches during recruiting visits and interviews and then their truth self comes out once they get here?" – Mike
Mike, coaches don't base their opinions on recruits merely from interviews and visits. Forget swimming in the one-foot kiddy pool of recruiting. Let'Äôs jump into the deep end… CANNONBAAAALLLL!!!!
Coaches talk to high school coaches, teachers, and administrators who can tell them what it'Äôs like dealing with a kid daily. They also talk to family and friends. Most of these people are clearly in the kid's corner, but if there is baggage, it's almost always uncovered. Coaches also talk to other players on the team to get a vibe of how they fit in. College recruiters also depend on point persons around the high school athletic scene to ferret honest information. There is a lot more than just what the recruit says in an interview that goes into deciding if you want to offer.
After the national championship game some very early preseason college basketball rankings came out. According to said rankings, Syracuse is a top 5 team but that doesn't sit well with everyone.
"The point guard SHOULD be a team leader. But Scoop, no offense, simply is not. KJ by right could be a leader, at least on the offensive end, but he hasn'Äôt embraced the role and I'Äôm very reluctant to assume he'Äôll be back next year." @cap2nine
Sorry cap'Äôn. Scoop is absolutely the leader. His problem isn'Äôt leadership, it's that he's erratic and no one else wanted the ball. Kris disappeared for long stretches. Brandon was more hot and cold than a spring in Syracuse. Rick was doubled all the time and let's not get started on the centers. Does Scoop have a little crazy in him? Hell yes. Is he an ideal starting point guard? Not if he plays like last season. That all being said, the hate has reached an absurd level. Pump the breaks on Scoop, he could be a lot worse. Also, if Kris leaves I'll run sprint a lap around the Dome while not wearing pants.
"What posters fail to realize is that Triche is less than a mediocre ball handler and passer'Ķ..He cannot penetrate because he does not possess or cannot use a simple cross over and cannot change direction during penetration leading to many charging calls." – zetabeta5
Triche has problems, but ball handling isn't one of them. He's not elite at it, but to call him mediocre is a stretch. The reason he picks up so many charges isn't because he "can't change direction." He doesn't zigzag on purpose because (unlike Kris) he's strong enough to finish through guys at the rim. Referees just don't know how to call the block/charge and allow guys who slide in (see Marquette) to get calls despite not being in position and moving under the basket. That call should be changed to a "player control foul" where the only way there is an offensive whistle is if the ball handler completely dumptrucks the guy in front of him. That, however, is another rant for another time.
Monday night cemented something many Syracuse fans feared: Jim Calhoun > Jim Boeheim.
"For the life of me I cannot figure out why year after year Syracuse cannot make FREE THROWS. If they had Boeheim would be a coach with three titles instead of Calhoun. Now you have Jerry Mac up ther helping out why can'Äôt he teach these fellows how to shoot FREE THROWS and while he'Äôs at it he might be able to teach SCOOP how to be a point guard!!!!" – victoryman
First and foremost, remember Gerry is with a G, hence his nickname G-Mac. I'm sure this qualifies as some sort of cardinal sin, but victoryman, you get a reprieve because your point is spot on! Free throw shooting is something that can be worked on. Forms can be tweaked, and a coach can demand repetitions by giving it practice time. Apparently Boeheim doesn'Äôt value free throws because his teams have never been good. He just doesn'Äôt put in the time.
"@orangefizz Boeheim at least has integrity and I will take that every day."
That might depend on your definition. Does a 7-figure employee of an institution of higher learning ripping student media for doing their jobs equal integrity? More importantly, Jimmy does have some pretty major violations in his past (see: NCAA investigation, 1990).
It's also clear Calhoun-Bot 3000 has a special relationship with his players. Do you feel that between Boeheim and his guys? Maybe with some. Certainly not all. But maybe that'Äôs why Calhoun teams have had far more success in the tourney. The Huskies (wretch) seem to give it their all every possession in March and play this thing called defense. Okay, enough complimenting of the Old Cranky Dawg in Storrs. Let's move on quickly, I'm feeling nauseous.
Last but certainly not least, we take a look at one person's thoughts on our anlalysis of Dajuan Coleman. Warning to all Fizz readers Рdon't bring the weak stuff to the Fizz Inbox. It will be rejected. Vehemently.
"How can anyone in their right mind make a statement saying that Syracuse has a tradition of under achieving players? Who in sams hell is he talking about? It'Äôs also clear to me that he loves Duke to which I reply, I feel your pain bro. With all of those great players that love and understand the game, how did they do in the tournament this year? What about Duke'Äôs point guard Kyrie Irving leaving for the NBA after one year of collage? I guess Coach K couldn'Äôt influance him to stay, and get his degree." – ron
Few typos there Ron, but let's not quibble with semantics. Let's dissect this. Unfortunately, SU has had plenty of recent guys who never panned out. Paul Harris, Mookie Jones, James Southerland. Mookie and James were part of Syracuse's '08 class. UConn nabbed a kid that year that SU didn'Äôt even recruit despite the fact Scout had him as the 2nd best point guard in the country and he'Äôs from the Bronx – Kemba.
Fab was a complete and total bust this year after the Per'fessor himself dubbed him one of the greatest freshman he's ever coached. Might he still pan out? Sure. But that's one year lost and one more notch against this argument.
As for Duke? Let's face it, Coach K is widely considered one of the best coaches of all-time. As unlikeable as the the Blue Devils are, they graduate (Reddick, Battier, Jay Williams, Boozer, Dunleavy, Sheldon Williams), and have produced serviceable guys in the NBA.
Irving was going to leave early anywhere he decided to play. Kyrie dropped 28 points on just 15 shots in his 3rd bleeping game since December. He's the most complete point guard prospect since Chris Paul and Deron Williams came out. That includes Derrick Rose (not saying Irving will be a better pro, but he is a more complete prospect). Of course he was going to leave to go pro.
Once again, thanks to all who connected with us and keep 'em coming in our comments section and on Twitter this week! The spring game is only six days away!
Posted: Craig Hoffman
(adsbygoogle = window.adsbygoogle || []).push({});