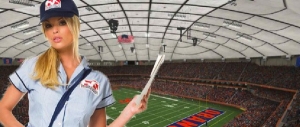 This week at The Fizz could've been titled 'ÄúWaiting on Waiters." The storm seems to have calmed as Dion proclaimed he'Äôs coming back, but we'Äôre still not sure if that'Äôs actually his decision. In the middle of it all, Rob Murphy left for Eastern Michigan and big question marks going into next year continue still loom.
@tjmothers: @orangefizz "What the Hell is going on up there? Rob, Dion, Coach running his mouth…not the Tight Ship I'm used to."
We're still trying to figure this out ourselves, but the only definitive result was a full Fizz Inbox. We'll start with Murph and then dive headfirst into Dion drama. The hiring of former Orange guard Adrian Autry certainly didn't disappoint Orange Nation, it did leave the question of how will this staff coach the bigs?
"Melo and DC have taken the time to give pointers to our big men over the years. Our young guys all say that the help they got from former SU big men was invaluable. KJ obviously has moves reminiscient of Melo 'Äì he'Äôs just not as good. And did 5'Ä≤9'Ä≥ Bernie Fine or Murph really teach RJ his go-to-the-hole post moves? If you think so, ask him. It was #44, folks."
Bernie Fine coaches the bigs. The Per'Äôfesser isn't replacing him. To all those clamoring over the lack of height on SU'Äôs coaching staff, you don'Äôt need to be tall to coach. Does it add more validity if you'Äôve played the position? Sure. But if a player is coachable he will listen to anyone. It isn'Äôt about height, it'Äôs about technique, communication, teaching skill and recruiting. The last of which is most important in replacing Murphy.
We first discussed the Dion drama on last week's FizzCast.
"I can'Äôt see how you force out a guy without whom the loss to Marquette would'Äôve been ugly. Not under any illusions Dion would stay four years, my thought was he leaves next year if he scores 10+ ppg, but there is no way JB will convince anyone a freshman beanpole is already better than the most explosive player on the team. As if this team has so many guys with blow by ability." – Kev
Kev'Äôs first point is solid. How do you kick off a guy who was clearly your best offensive player in the last game you played? Also, for as great as we think MCW will be, we simply don'Äôt know. If Boeheim kicks Dion off the team simply because they clash, it's the wrong decision for many reasons. While Triche has the same capabilities as Dion in finishing and outside shooting, Waiters is quicker and has a better handle which allows him get to the rim. He also is the anti-Brandon as Triche can overthink while Dion is always on to the next play (for better or for worse).
The biggest looming question is "who's decision is it?"
"Barring Dion shows up at Boheims front door and tells him to f* off, there is a 0% chance they revoke his scholarship. -Paul"
Dion says he's staying. Boeheim never denied saying Waiters may not be back. Many Orange fans think there's simply no way Dion's scholarship isn't renewed, and The Fizz tends to agree. Messing with a player's future simply because you don't like him seems wrong and despite Jimmy B's past headaches with Dion, he still has to be patient.
As for what Dion's return (or departure) means on the court?
"Tired of you dogging Dion'Äôs D. Did you not watch him play? He was clearly the most active of the guards on the defensive end. No one was stellar but Dion was as good, if not better, than anyone else on team. He clearly made more effort as season progressed. He is a (rare) kid who has better effort than attitude." – DocAlKy
Disagree. Dion's defense was awful for most of the year. Don't confuse activity and production. Dion seemed to contest so many shots because he was out of position and was running to recover.
"Dion'Äôs defense was better than KJ'Äôs and that'Äôs the truth." -AnaheimOrange
And attempted murder is better than murder.
"If this is the final truth and Waiters remains at SU, this is very good for the team. The competition at guard should help to improve everyone and give MCW and Cooney the opportunity to learn the college game at a reasonable pace. Dion can do all the things that Triche and Scoop can do and is only going to get better on both ends of the floor. As long as he learns from this fiasco and puts in the effort (in practice and in the classroom) I think he will be rewarded with play time and a share of the spotlight." -cap2nine
Aye aye, cap'n. Dion is ultra talented and while probably coddled, his intentions, like Scoop's, seem pure. He wants to play, win and be a big part of the win. He knows he's capable and admittedly needs to step back and know his role, but in no way is Dion leaving a good thing.
"JB, for his part, should keep these disputes in house and not run his mouth in a public gathering with reporters present. It amazes me sometimes how media savvy JB isn'Äôt. First, he gets mad at the P-S for reporting his 7 game losing streak against Pitino, which is an absolute fact that should be reported, and then he drops this bombshell. Maybe Coach Hopkins should be taking over sooner rather than later. I appreciate everything JB has done for SU, but I feel like he has lost some of his drive since 2003." -orangeskin
Orangeskin wins comment of the week for a really well thought out and logical reasoning¬†on D.A.'Äôs post about Dion being coddled. Increased drama and continued early exits has equaled less patience from Orange Fans for the Hall of Famer. Of college basketball's titans, Boeheim may have the lowest approval rating within his fan base. Incidents like the press offensive don'Äôt help. Hopefully this turns out well, but for now we wait to see how a season which starts with question marks evolves.
Posted: Craig Hoffman
(adsbygoogle = window.adsbygoogle || []).push({});