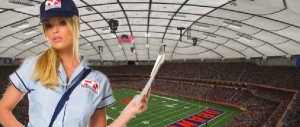 This week of Fizz Feedback hit on Chad Kelly, the ruining of Jonny Flynn and an Intra-Fizz commenter fight! It's a Fizz Inbox unlike any other. Let'Äôs take a look at one Orange optimists' view on Chad Kelly after¬†listening to last week'Äôs FizzCast.
"what are su'Äôs chances of getting kelly?¬†they are half of SU'Äôs chances to go undefeated, get the bcs bid this year.¬†of course half of zero is still zero" – matt
Well, your math is good, but you'Äôre initial equation is way off. We talked to his coach earlier in the week and he described SU as the ideal program for Chad (although not by name). Kelly wants somewhere family oriented, he values education, and wants a chance to compete for playing time right away. That's something definitely possible with Syracuse'Äôs less than stellar depth behind Ryan Nassib who has two more seasons at SU. Kelly's also very close with his family, so being just two hours from Buffalo is a huge advantage for the 'Cuse.
Sticking with the recruiting theme in response to last week's inbox:
"[Rochester 4-Star DT Jarron] Jones is interested in Syracuse (yes he has a soft verbal to Penn St, but what does that mean and who cares, but again Syracuse has made a top in-state player'Äôs final list. It'Äôs another step in the right direction (i.e. Ishaq), but this program still needs to close on a big time recruit. Being noticed again by in-state recruits is nice 'Ķ but this program needs a recruiting closer (or a breakthrough similar to Brian Leonard and that NJ state institution) to take that next step." – Real Life
We talked about it a ton with Ishaq. It's a process. First you get in the door on blue-chip recruits, then you get in their final decision, then you finally land them. Syracuse football is at the stage now where the Orange might get in on a few. The next step is actually reeling them in. But being on the preliminary lists of Kelly and Jones is definitely a good thing. The Dougie is still moving in the right direction, not idling in place.
On this week'Äôs FizzCast, we'Äôll have ESPN'Äôs Ryen Russillo to talk about Rick Jackson'Äôs draft stock and what has David Kahn done with former Orange stars Wes Johnson and Jonny Flynn? Wait for it… wait for it…¬†KAAAHHHNNNN!!!!!
"What'Äôs the best case scenario for Flynn and Wes? Rubio somehow agrees to come to Minny and they ship Flynn somewhere where he can be an energetic 2nd option (see Jose Juan Barea in Dallas these playoffs!)'Ķ and then Rubio ignites the offense as it opens up for Wes Johnson and Kevin Love to score 25 and 15 per game respectively?" -Nick
You clearly see the world through Orange colored glasses (nothing wrong with that!). Jonny will never do what J.J. Barea is doing, and Wes will never average 25 and 15 (Love does average a sick 20/15). There's only been one player besides Love since '02 that'Äôs averaged 15+ rpg in a season (Ben Wallace in '03 for those wondering. He also averaged a whopping 6.9 ppg). However, your thoughts aren'Äôt far off base.
The best bet for Jonny is out of Minnesota and into a pick and roll offense (New York with 'Melo anyone?!). There he can take advantage of the assets he brought to the 'Cuse. The triangle is where point guards go to die. There are countless examples of players who go into the wrong system (Jay Williams out of Duke pre-bike accident) and disappeared. That'Äôs exactly what happened with Jonny. Allow him to do what he did in college and he'Äôll be alright. Wes would also benefit from leaving the triangle and heading to an offense that highlights his skills more as a spot-up shooter and finisher in transition. In summary: run as fast as you can from Kahn and Kurt Rambis.
One last basketball note from our Twitter feed. We shared with Fizz Nation that George Mason forward Luke Hancock is transferring to Louisville. One tweeter wasn't concerned.
@Shue_Box: @OrangeFizz And we'll worry about it in 2013.
This was before 6 pm on Saturday. Want to change your mind now that the Rapture clearly hasn't come? This isn't an issue for this season, but Hancock is really good. He was the reason GMU beat Nova in the NCAA tournament. He was out sick the next game against Ohio State, the Buckeyes beat the Patriots by about a hundred in the most impressive game of basketball I've ever seen in person. If he plays, there's no way that happens.
That will do it for today's undercard. We now move onto the main event. D.A. wrote this week about former Orange Lineman Josh White's absurdly moronic, vulgar, and embarrassing Twitter feed. The Fizzmaster decided to include a lot of the tweets (censored) to illustrater the point. One frequent Fizz commenter took exception. Another took exception with his exception. Ding ding!!!
"Why in the hell would you post this crap? DA'Ķ is there REALLY nothing better to talk about than this ex-player and his sexual life? I guess im just annoyed cause DA used to rock this website with good stuff. Now its mostly fluff, what gives?" – JHughes
And then came the first-round knockout. BAM!!!
"OK, JHughes enough is enough. Stop your damn crying here will you please. Last year when Josh White left the team everyone including the OrangeFizz posted,everyone thought Coach Marrone was to hard on his players and that he was forcing them to leave.

Well if it wasn't for web sites like the OrangeFizz telling us all what Mr. White is like then we really wouldn't know. Would we? I appreciate it when someone tells the truth and then puts it into print.

I know that the truth really hurts, but I do appreciate this web site.

If you want to talk football in person my sons and I tailgate at Manley Field House every home game. Stop by and I will discuss anything you'Äôd like. If you are going to keep crying about what is said here, then please do us all a favor and keep your damn opinion to yourself and stay away from this website. Thank you." -ron
BOOMSHAKALAKA!!! IN THE FACE!!!
In all seriousness though, we appreciate both positive and negative feedback. JHughes's comment is just as meaningful to us as ron's. Do we occasionally post something out of left field? Sure! But we also make it a priority to always be on top of the big stories in Orange Nation.
Once you cut through the despicable tweets, suggesting the article was fluff is also off base. The point of the article is that if it weren'Äôt for Doug Marrone coming in and cleaning house of idiots like White (who is apparently too dumb to realize that stuff is remarkably offensive on Twitter), there'Äôs no way the Orange program turns around. White isn'Äôt some backup guard from the fifteen years ago. This is a guy who 13 months earlier was slated as one of SU's starting tackles. He's no longer protecting Ryan Nassib, out of football and has plenty of time to Tweet his days away. Doesn'Äôt happen if not for Marrone drawing the line in the sand and cleaning house.
Remember to post your feedback in the comments section under each of our posts and tweet with us @OrangeFizz. Your comments could be chosen for next week's Fizz Feedback.
Stay tuned for the FizzCast with full coverage of Orange in the NBA, SU football returns to Syracuse to start summer camp, and full reaction from Syracuse's lax game versus Maryland.
Posted: Craig Hoffman
(adsbygoogle = window.adsbygoogle || []).push({});