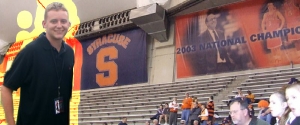 It seems strange to finally be penning a Fizz Farewell. Don't get me wrong, I've tried to put in my two-week notice several times. But every time I was ready to move on, I latched onto another fun project that required me to stick around.
Between Merry Fizz-mas, the Three Amigos Collection, and the Spring Game Depth Chart, I was always knee-deep in stuff I truly enjoyed doing.
There's been a lot of fun here in the past two years since I began writing from 144 Winding Ridge, Apartment 6. I wined and dined at Big East Media Days not once, but twice.
I stood by Couzens as he was berated by SU Athletics for the Sam Nappi/Ernie Davis story, spoke to Dom Timbers' worried mom, and slaved over two National Signing Day marathons that left me exhausted, happy and satisfied all at the same time.
The entire time I enjoyed myself, which is really all one can ask for. A few thanks need to be given out, since I'm the kind of individual who relies heavily on his friends and family to make everything work.
D.A.: The opportunity to work on The Fizz is something I'll never forget. That, a trip to Fenway, my first bar beer as a 21-year old, the Volvo s60 weekend, and all the criticism are things I am grateful for. This experience was truly something else.
Couzens: As much as you thanked me for putting up with you, the same goes right back your way. Couzens and I were roommates, co-writers at The Fizz, and good friends, which doesn't always mesh together well. I'd say we made it work.
Lauren: My girlfriend of 18 months (and counting) has stood by me, and despite not being a journalism major, served as my ethics professor throughout this process. We tread some heavy waters from time to time here at The Fizz, and believe me, I can't tell you the number of times my head got wrapped around something that just wasn't fit for print. She saved me from quite a bit.
My next endeavor is working at the NBC's Page Program in New York City. You can catch me @TedConroy on Twitter, which will still be rocking away with inflammatory content. The Fizz's original class is now graduated, but there's another cast of characters to take the lead. Don't worry, they know what they're doing.
Kanell and Hoffman: You two are going to be stars here, just make sure you listen to D.A.
DVM, Plavin and Big Steve: Solid work so far. Keep it up.
I must stress that you, the readers, have served as a great critic, tip line, and enjoyable commentator. Keep reading, The Fizz is going in some exciting directions the next few months.
I'll be sticking around here in a consulting role, so you won't be entirely rid of me. You can always drop me an email too. teddyconroy@gmail.com
Thank you all.
Posted: Ted Conroy
(adsbygoogle = window.adsbygoogle || []).push({});