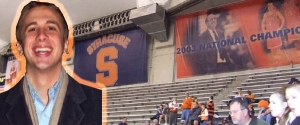 Just short of two years ago, I decided I was going to jump on board with this blog called Orange Fizz. I didn't know much about it, hadn't delved much into the recruiting scene and wasn't sure if the whole thing would really be for me.
Now as I write my last post for The Fizz, I realize that it was one of the best decisions I'd made during my time at Syracuse.
Not only in the last few years has this blog become the go-to source for all things recruiting for SU, but it's also become a lightning rod for controversy, a great place for conversation, and one of the best staffed collegiate blogs in the country.
I've had the privilege of traveling to New York for Big East hoops media day and talking candidly with some of the country's best coaches, learning to work the phones all day on National Signing Day, and breaking one of Syracuse's biggest stories this year.
In addition to all of those things, working at The Fizz means having the honor of working with a fantastic editor. D.A. has an eye and an ear (and possibly other unknown senses) for an angle and a story. I don't like to say that many people are funnier than I am, but he is easily one of the most hilarious people I know. His efforts behind the scenes could easily exceed 40 hours a week, and without his dedication, the site would be nothing.
With me from the beginning has been Ted Conroy, whose time at SU will also be up before he knows it. Thanks Teddy, for basking in the glow of the sun and the aroma of lobster at football media day while I was hard at work last summer. And of course, for putting up with me the last two years.
Fizz readers, trust that you will be in good hands with Kanell and Hoffman in the future. They're two guys who have their feet firmly entrenched in the SU sports media scene, and will not let you down.
And to everyone who's been reading from day one, or if today marks your first day, thank you for joining along for the ride. I'm moving on to a new venture, but will always be a loyal reader of The Fizz. It's hard to let go after seeing the blog all growns up now.
I just hope it doesn't grow up too much to become the hot girl in class who every guy starts hitting on. Then I'm coming back with my pickup and shotgun!
Before I go, I'm will say I am honored to go into The Fizz Ring of Honor. As a child, I got to attend Cal Ripken's last game, and I think he summed up departure pretty well:
'ÄúOne question I've been repeatedly asked these past few weeks is, 'How do I want to be¬†remembered?' My answer has been simple: to be remembered at all is pretty special.'Äù
Thank you.
Editor's note: Couzens' retired #14 is now hanging in The Fizz rafters.
(adsbygoogle = window.adsbygoogle || []).push({});