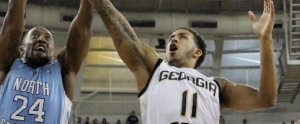 Thus far, the summer's news has been dominated by SU basketball players on the way out of town. Dion Waiters was rumored to be considering a transfer, DaShonte Riley actually transferred, and Fab Melo's status with the team will likely be determined after he sorts out a complicated mess of legal problems.
So it's pleasant to be thinking about a possible addition to the Orange, even if he wouldn'Äôt be eligible to play until the 2012-'13 season.
Following the departure of Yellow Jackets Head Coach Paul Hewitt, Georgia Tech forward Brian Oliver has decided to transfer, and Syracuse has emerged as a possible destination for the future junior.
Brian's mother, Zena, doesn't seem quite sold on SU herself, but tells The Fizz that her son is definitely interested.
"I'm not 100 percent sure (about Syracuse as a possibility). From Brian's perspective it would be. He just needs to talk to the coaches."
And she says the SU coaches have begun to show their interest.

"They reached out to his AAU coach."
To her knowledge, nothing has really changed since the announcement of her son's transfer, but she plans on checking in with him soon.
"He just finished up his summer class (Friday), so I told him I wanted to give him a call (soon) and kind of see where things stood."

Oliver averaged 10.5 points and 4.5 boards per contest last season, and missed eight games due to a thumb injury. Interestingly, many 'Cuse fans know Oliver well. As role-playing sharpshooters tend to do against the 2-3 zone, Oliver had his best outing of the season against Syracuse in the Legends Classic championship game, dropping a career-high 32 points and knocking down six treys. So it's safe to say the SU coaching staff knows his potential.
To get a better idea of what type of player Oliver is, and what he may be looking for in a new school, The Fizz also spoke with Ken Sugiura, the Georgia Tech beat writer for the Atlanta Journal-Constitution. Sugiura says first and foremost, Oliver didn't love his situation at Tech because he was forced to play down low.
"Last year he played power forward which was a little out of position for him, which may have contributed to him wanting to leave."
At 6-foot-6, Oliver is mainly a perimeter shooter, and according to Sugiura a decent rebounder. What's encouraging is that although things weren't going great for him as a Yellow Jacket, his attitude never suffered.

"He's an effort guy. Even though he was out of position he tried his best to play down low."
Another factor in Oliver choosing to switch schools is his family situation. From the conversations Sugiura has had with the Delaware native, it sounded like he wanted to move closer to home.
"His father has had some health issues over the last three years as I understand, so that's part of his rationale for leaving. I think that's a factor in where he ends up."
Sugiura says that Penn State, La Salle, Missouri, Seton Hall and Delaware are programs that have actually talked with Oliver's family directly, and UConn, Georgetown, and St. John's also have interest along with Syracuse.
There are some regulations that schools have to work around when recruiting a transferring player, so that's why Sugiura believes SU hasn't talked to Oliver's family just yet. As schools often do, the Orange has gone a different route.
"Syracuse is more of a back-channel thing."
Oliver certainly would fill a need for Jim Boeheim. Lately, his teams have had plenty of dynamic athletes who are often inconsistent shooters. Oliver, as well as incoming freshman Trevor Cooney, could help space out the offense. Sugiura says Oliver is looking for a program that will appreciate the impact of a great shooter.
"He'd like to play in a place where spot-up shooters are valued and maybe not as up-and-down as it looks like Georgia Tech might be with (new head coach) Brian Gregory."
Syracuse may not be a breeding ground for spot-up shooters, but that's precisely why the Orange could use a player like Oliver.
Posted: Andrew Kanell
(adsbygoogle = window.adsbygoogle || []).push({});