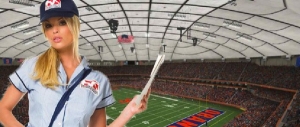 Much like Ishaq Week, Chad Kelly Week ended in disappointment for Syracuse. The highly touted quarterback decided that he wanted to escape the upstate of New York for the upstate of South Carolina. Orange fans sounded off in the week leading up to the decision (not to be confused with The Decision, Kelly did not involve Jim Gray or a bad plaid shirt). Here's a look back at what they had to say.
We start with Monday's Fizz Feedback and a pretty funny shot at The Fizz.
"kelly is announcing thursday. can we expect the fizz article blasting him and/or his family wed or as early as tomorrow?" – matt
Well, we'll just remind Matt, Ishaq's father did tell us directly he was never influenced by our online scuffle, and even gave The Fizz props. But kudos for a zinger that made us laugh out loud.
"No matter what Kelly picks, I won'Äôt fault him. If he picks one of the southern schools, its for the prestige and there'Äôs nothing wrong with wanting to win. If he picks SU, then everyone should give Doug Marrone and Nathaniel Hackett hugs as well as his little brother who Chad doesn'Äôt want to be far from." – Hoffman
"hoff you can remind me all you want, but let me remind you that people don'Äôt like it when people that don'Äôt know them take shots at them. I mean you just responded to me because i took a shot at orange fizz, i suppose it doesn'Äôt bother you though ha." -matt
We actually don't take it personally at all, Matt (which is why we ran the comment in Fizz Feedback). Our objective is to deliver Fizz readers what they cannot get elsewhere, in our own unique way. We also don't take ourselves too seriously. Funny is funny, baby. And going back to the Ishaq saga, our criticism of Papa Williams still seems fair even five months later.
In the case of Ishaq, D.A. saw something he didn'Äôt like and wrote about it. His dad did the same in responding to D.A. and eventually they came to a mutual agreement on the situation. When you combine opinion with reporting like we do here, not every piece will be embraced by everyone. Every Syracuse fan is entitled to their own position. We're all SU fans at The Fizz, so we have opinions too.¬†We love all feedback – positive or negative – because we're all Orange Nation.
Back to Kelly as Orange fans remained optimistic.
"I have a feeling he is coming here. If 'ÄòCuse can reel in Kelly, Jones, Morgan, and maybe even Wes Brown, i feel that would be the charge the 'ÄòCuse will need for future recruits." – OrangeCrush22
"I'Äôd settle for Kelly and Jones. Anything else is gravy for now." ¬†-Kevin
At that point I thought SU had hope too. Clemson was still the favorite, but when Kelly told our Steve Neikam that he didn't really want to leave his kid brother, I thought there was a chance. Then Tuesday happened, and the reality that Kelly was deciding after two days at Clemson's football camp.
"What is wrong with these kids. He could be a hero in central and western new York in stead of a number at Alabama. I mean an SU QB with a degree from Newhouse could get any job they want if fball doesn'Äôt pan out." – JCDub
Newhouse pride baby! Newhouse pride!
"What we have seen so far is that relationships with coaching staffs appear to be over-rated. Kids are making decisions on other things'Ķ like anything else we want in life, you can'Äôt overlook the Wow factor. Alabama is big time, Nick Saban can produce the WOW factor on demand, Clemson, not in the same league as Bama, but if you have ever been down there, from a football standpoint- Facilities, stadium, Fan Support (Something foreign at the Cuse), there is a lot to make you go WOW. Now, lets look at the Cuse and it'Äôs WOW factor: the Dome? It can be a wow for some, but it has lost much of it'Äôs wow factor over time. I hope this Kelly kid is impressed by more than a fancy dog and pony show or else the Cuse is done." – Dr. Bill
"doesn'Äôt mean that relationship with coaches is overrated. all it means is that syracuse is way behind in everyother way, which is completely true. the clemson coach is likely to be fired at the end of the season." – matt
There is some truth to both ponts. What Dr. Bill says about the 'ÄúWOW'Äù factor is dead on. The Dome has a mystique but having been to both it's got absolutely nothing on Death Valley in Clemson. Add in the program's facilities and really all SU has going for it is coaches and geography. As Matt says, you need more. As for Dabo Swinney'Äôs future, there is no way he gets canned. Everybody loves him down there.
"NCAA death penalty is to SMU like GROB was to 'ÄòCuse'Ķ" -OrangeCrush22
Ugh.
"Kelly is history. He will not wear our orange!! But he'Äôll learn that southern cooking might not be all its meant to be!! Its alot different there than here. So don'Äôt be surprised that he'Äôll transfer some where else after a year or two!!" -Terry
A) Southern cooking is everything it's cracked up to be and southern hospitality is amazing. B) The South is a lot different but there's plenty of things to like. I obviously can'Äôt guarantee he'Äôs not going to transfer, but it would surprise me. The timeline is good for him to start with three years of eligibility left and he loved that place from the minute he stepped on campus.
By Wednesday we knew that Kelly wasn't SU bound and were about 90% sure it was Clemson, with the other 10% being a late push by Alabama. D.A. still thought this was a win. Fizz fans, what say you?
"let me put this simply: winning is winning and losing is losing i'Äôve never celebrated su being behind only a touchdown at the start of the 4th quarter even during the grob era. I won'Äôt do it now either. being in the game with better recruits like kelly is a positive sign.. but isn'Äôt a win." -matt (and his broken shift key)

"Wow'Ķ I agree 100% . There is no moral victories. Second place is the first loser. We have to start winning these recruiting wars and sign the players we need to sign until then… we have not accomplished much. That is what our perspective should be. Go Cuse." -Dr. Bill

"The recruits will come. They need the wins on the field first, then you'Äôll be seen as a viable destination for top level recruits. Improving records and a 3rd tier bowl game victory help. How to get the top recruits? Beat USC and come in second place in the Big East. That would be the fastest, best, and most convenient way to do so." – Kev

"We need facilities stat. If you were an elite recruit, you want to see commitment to football. Have you seen pics of the treatment room/tubs? Pathetic. As a football player, keeping your body healthy and in top shape is of utmost importance. This is why it is important for SU to upgrade the facilities so that we can say with conviction that the recruit has access to those things that will help heal him and make him a better player." – Jack
Ouch D.A! Not a lot of support for the Fizz Master's sentiment that this was a moral win. It could be worse. One of his loyal writers could disagree Рlike me. Which I do.
In no way is losing a recruit a victory. Being in the race is absolutely progress from where the program was a year ago and miles ahead of where it was two years ago with Groobers. But to call it a win? Hell no. Maybe it's just semantics, but win is way too strong for me. The idea that maybe the next guy comes here because Kelly/Ishaq/Perkins almost did? Don't get me started.
Thursday was decision day and as expected it was Clemson. By this time SU fans had settled and knew this was coming, had prepared for it, and seemed to handle it pretty well.
"He picked the right color'Ķ but the wrong team. It'Äôs baby steps, but Marrone has got the program moving in the right direction and its only a matter of time till prospects see that." – NYC

"Losing out on Kelly is tough but it is clear that we are moving in the right direction because 2 years ago with Robinson we would have never been in contention. It is promising that every recruit talks up the relationships which Coach Marrone and his staff are building. What we need to focus on now is continuing to develop our facilities (and dare I say it possibly start looking into a new stadium). It is clear that the Carrier Dome and Manley cannot compete with the type of facilities offered in the Big 10 and ACC. Hopefully another bowl win or two and the best players from the Mid-Atlantic will start to see the program as legit." -Ian

@ChrisOneThree: Damn…smh RT @orangefizz: Chad Kelly, a prized QB recruit from Buffalo class of 2012, has chosen Clemson over Syracuse and 5 other schools.
Then, one Buffalo writer told Alex Plavin that Kelly kept SU in a finalist as a "courtesy" to the Orange coaches. Fizz On! Starting with our buddy Sean Keely from Nunes Magician.
@NunesMagician: @OrangeFizz Let's get Clemson on the schedule for 2016 right now so we can kick their ass as a courtesy.

@eric_theorange: @NunesMagician @OrangeFizz Jan 1996 Gator Bowl revisited! Where is Sir Mawn Wilson when you need him.

Losing is losing. I love the fizz, but you cant keep acting like being considered is enough we all know that we need to close out on these players. We find some diamonds in the rough but we need the blue chips from new york to live and breathe Cuse. РChris (writer's note: We love you too?)

I hate the Bills, Uncle Kelly and now this spoiled kid. Remember he had a attitude that HCDM might not of liked. For once I'm glad we did not get this kid. Instead I'll root against this kid for playing around with us!! РTerry

@Shue_Box: @OrangeFizz A "courtesy?" Why does he owe SU a "courtesy?" He's not from 'Cuse, Jim didn't go there, and neither did his parents. I call BS. ¬†Now if he took an official visit to UB I would consider THAT a courtesy visit. (writer'Äôs note: his uncle has a very good relationship with Syracuse offensive coordinator Nathaniel Hackett)

@ndIRISHlc19: Ouch. 'Äú@OrangeFizz: Buffalo News writer tells Fizz Chad Kelly's interest in Syracuse was just a "courtesy."
Everybody is dead on (except for Terry, who is just Mr. Bitterpants). If the point is to "raise the profile" of the school, then no one can know you did it as a courtesy. It looks like football welfare. This leads to my take home point of the week, which you can hear more about in this week's FizzCast:
What kid is saying, "You know what? Because Chad Kelly/Ishaq Williams almost went to Syracuse, that's where I'm going"? Not a single damn one of them. Not one. No way. If a prospect is as good as Kelly/Williams, then they aren't going to consider what another kid almost did. For Ishaq, he seemed to keep SU in the end because his parents are alumni. We have no reason to believe Kelly is a bad kid, and no one in his camp would want this idea to get out. If you tell a reporter, that's fine, but it has to be done so explicitly off the record that if the reporter tells ANYONE he should fear getting ducktaped to a goalpost while Chad and Uncle Jimmy take turns firing footballs at his melon.
(Editor's Note: Isn't is possible that no one told the Buffalo News that Kelly's late consideration of SU was courtesy and that it was simply surmised by the writer according to the facts that went public? Kelly loved Clemson when he visited. He agreed to participate in the Tigers football camp. He moved up his decision weeks after working with Dabo Swinney. This might be based on zero inside information and mere educated reasoning. And I never suggested the Kelly Sweepstakes were a win because other recruits would be swayed to choose SU because other high-profile kids had almost picked CNY. It shows significant growth in the polish and effectiveness of the Syracuse recruiting staff. Sounds like everyone forgets the Orange was a one-win program 22 months ago. Why did we celebrate a Pinstripe Bowl victory if all that matters is the biggest of wins? Why aren't we only satisfied by winning the Big East and the ensuing BCS bowl game under that rationale? We are clearly excited and supportive of the steps in growth – except in recruiting, where SU is supposed to beat Alabama and Clemson to a top 80 kid. Sounds like a sliding scale to me. -D.A.)
For more on this and a complete wrap of the Kelly coverage including an interview with the voice of the Clemson Tigers, Pete Yanity, check out this week's FizzCast tomorrow (although if you subscribed on iTunes, you'd already have it!).
Next week'Äôs Fizz Feedback will be uniquely different, so you'll definitely want to share your opinions heavily this week. Follow us on Twitter (@orangefizz) to respond throughout the week and comment at the bottom of all our stories.
Posted: Craig Hoffman
(adsbygoogle = window.adsbygoogle || []).push({});