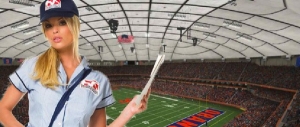 The summer recruiting season is heating up and the only non-prep story this week for The Fizz is an update on Ashton Broyld's court case for exposure (the second-most notable wiener in New York State). We won'Äôt bury the lead though, and start with the latest on Chad Kelly, who had a blast last weekend on the Hill.
"At first I thought this kid was or would be a good get. He has problems of underage drinking and a class room incident are mentioned before. We have enough talent at QB. If HCDM is trying to prove the 'keep NYS kids home' then this could prove wrong. We need defensive help and a good RB would not hurt either. Kelly is a type of player that will not change positions either, so why the big deal about his verbal. Jones is a bigger get and we are low on his list!!!" – Terry
Am I missing something? Why would SU want Kelly to change positions? Yes, there are a lot of QB'Äôs on the roster right now, but we'Äôve seen everyone besides Ryan Nassib appears to be a project. Ashton¬†Broyld (even without the wiener case) and Terrel Hunt are still giant question marks. Kelly is the is the 5th-best QB prospect in the country and you want SU to say 'Äúwe'Äôre good there'Äù?! Bring him in as a signal caller and let it rip as until he wins the job. Also this is not the NFL Draft where the Orange'Äôs 'Äúfirst round pick'Äù has to be spent on a QB or defense. SU can recruit both. Plus…
"How many is too many QB'Äôs?" -OrangeCrush22
And from loyal Fizzster Carlton…
"Underage drinking isnt a huge issue it goes on all over the place and i bet even u terry drank before u were of age. Also kelly has a bigger upside then any qb the 'Cuse has on the roster right now. I havent seen anywhere that jones said the 'Cuse was low on his list. He'Äôs planned a vist to the hill and hes a very soft to PSU." -Carlton
You can never have enough good QB's. Pre-Pinstripe Bowl, Orange fans were begging for just one. We've discussed underage drinking in detail thanks to Jarrod West and as bad as it sounds, there are clearly worse things you can do (like drawing attention to your manhood if you're either a) an incoming Syracuse recruit or b) the presumed next mayor of New York City who, for good measure, has the last name of Wiener.
As for Jones, to say he'Äôs soft to Penn State is giving JoPa'Äôs team too much credit. A source told The Fizz recently he'Äôs not going there unless there is a massive change of heart and 'Cuse is very high on his list. We should know more this week. Here'Äôs this week'Äôs 'Äústraight from the horse'Äôs mouth:" a response from Fizz writer Steve Neikam who has spoken to both¬†Chad Kelly and his head coach.
"ESPN came out with their ESPNU 150 top prospects for 2012, Kelly was ranked number 80 overall, and the #5 QB on the list. He would NOT switch positions at SU, however his presence could potentially force someone else, i.e. Broyld or Hunt to do so. After watching Broyld in the Upstate-Downstate game, he'Äôs close to having a linebacker body right now, and we can only assume he'Äôs going to bulk up more. And to answer orangecrush22'Äôs question, there is no such thing as too many good QBs. Ever. Having multiple guys with talent at any position creates a competitive atmosphere, and eventually makes each player better." -Big Steve
Broyld has been entrenched in his own version of Wiener Time. This week another day in court leads to yet another delay.
@OrangeFizz seems like he may be getting bad legal advice, admit it and do community service -@mdb80
"This is a very sad case. If he in fact did what he is accused of doing, then he should be charged with indecent exposure, face a stiff penalty, and his scholarship should be revoked. If this is true, this is more than just a kid using bad judgement. He crossed several lines, but once he pulled out his male anatomy in public, he crossed the Rubicon and his punishment should not be considered lightly. He made a huge mistake, and he is young enough to learn from it and recover, but not at SU. Give his scholarship to a more deserving student athlete'Ķ if this is true!" -Dr. Bill
The good doctor is in the house and he's laying down the law, with no wiggle room for second chances! We've established that Broyld is a good kid who made a boneheaded mistake. Having someone like Marrone or Nassib (who is as cool as they come with the media/in public to the point that he's considered boring) as a mentor is exactly what Broyld needs. Despite "crossing the Rubicon" he shouldn't be given the boot. The best tact would be to simply move on, which makes this latest development so bizarre. Last but not least, after so skillfully writing "male anatomy" couldn't we have done a little better than saying a "stiff penalty?"
The Upstate/Downstate game last weekend garnered lots of attention in Fizz Nation since it featured loads of incoming SU recruits. Brandon Reddish was playing WR in the game, despite the fact he's being switched to DB. That led to our Alex Plavin asking why?
"because reddish isn'Äôt as fast as a kobena/graham and is also tiny" -matt
My man Jermiah Kobena is a burner, due in large part to his sweet mohawk (it's aerodynamic. Trust me. It'Äôs science). But Graham is a senior and SU needs help right away at DB, so that'Äôs where Reddish is going to play. He can still use his speed and ball skills to be effective there. At receiver the Orange still have a young West and Adrian Flemming, Alec Lemon, Van Chew and Marcus Sales.
Last but not least, more recruiting news on New Jersey recruit DE Dominic Twitty, who is interested in SU, is a monstrous human being, lacks off the field problems as far as we know, but also doesn't have an offer from the Orange.
"Don'Äôt doubt Marrone. If their is a reason that Twitty doesn'Äôt have an offer and fuller isn'Äôt being talked to then there is a good reason for it. A lot of teams ar looking at Fuller at DB anyways and we are already stockpiled at QB. We are probably focusing more on Kelly anyways. If Twitty has no offer then he is low on our list and we hve offers to players we think are better suited for our program." -Fort Orange
The Fort speaks strongly of The Dougie as we have in the past, but this one makes no sense. Ask Dave Van Moffaert, who wrote the piece and spoke to his coach:
"Syracuse has scholarships out there to prospects who have no interest in playing for them. These players may be better suited for the program, but the reality is that SU has a hard time competing with the likes of Florida, Alabama and Notre Dame when it comes to football recruiting. It would be wise to offer scholarships to players who want to play for the program and that they actually have a chance of getting." -DVM
Makes sense. If a kid wants to go to Florida or Alabama, he'Äôs not going to change his mind for Syracuse because they give him an offer. If there are good players out there (like Twitty) who are interested in SU, why not go after them? Considering an 18-year-old is still moldable (see Redish's position switch) I don'Äôt see how a guy 'Äúcan'Äôt fit.'Äù Make him fit. You'Äôre dealing with very raw skills that can contribute somewhere even if it means a position change.
That'Äôs it and that'Äôs all for this week'Äôs Inbox. Keep commenting under all of our posts and reply to us on Twitter (@OrangeFizz). Next week, your thoughts may land in the Fizz Feedback. Until next time, remember kids, when you'Äôre in public or there's a camera involved, keep your pants on (especially if your last name is Weiner).
Posted: Craig Hoffman
(adsbygoogle = window.adsbygoogle || []).push({});