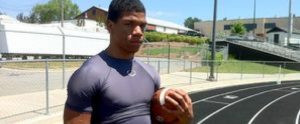 The Fizz has put the spotlight on Syracuse's recruiting road this summer, including a list of hot prospects the Orange is interested in. Add to that list George¬†Morris, a 6'Äô 1'Äô'Äô 195-pound running back out of Central Gwinnett High in Georgia, He's a 3-star prospect and extremely very versatile player. The Fizz spoke to his head coach Todd Wofford, who says that Morris is a complete player and has all the tools to compete at the next level.
"He is a dynamic playmaker. He is a big back, with small back skills. He is built, he is 195 lbs. but has the quicks to match anyone. He has hands like a receiver. Throw the ball out into the flat or down the field and he will catch it. Had 65 catches this season and is great in the open field."
His greatest strength?
"Going down the field. He can be put into any role and be what ever we need him to be."
Morris had 710 rushing yards, 658 receiving yards and scored 13 touchdowns last season for the Black Knights. He is lethal in the passing game and uses his blockers very well. On film, George makes quick cuts and doesn't hesitate in the backfield.
SU's roller coaster recruiting season has Orange Nation locked in and our readers have been all over Morris. "Dooner" commented on The Fizz, "He'Äôs the #1 back on the board from what I hear and Wheatley has been down there a bunch. A junior on that team is the #1 Mike LB recruit in the country for 2013. Wouldn'Äôt be a bad tag-a-long?"
While we can gloat about all the physical accolades Morris has, Wofford says it's determination that makes him a special player.
"Hard working, kills in the weight room. He is built like a truck, He is a hard worker in the classroom too. He didn't always use to be that way, but since I got to coach him he has turned it around. He knows what his future is and is going to push himself to get there."
GM looks like he would be a big pick up for SU. But what is he looking for in a football program?
"He just wants to play. He loves playing football. But he is looking for a traditional football program and having good relationships with coaches."
With no real proven running back on the 'Cuse roster, Morris would have a chance to play right away or at least compete for a starting spot. Looking for tradition? Then look no further than Syracuse. As for a good relationship with the Orange coaches?
"Coach Wheatley and him clicked from day one. They got what he is looking for. He knows he can learn a lot and get better from coach Wheatley. Everyone knows who Tyrone Wheatley is; his years in the NFL being a good running back and that sticks out. The coaches and him clicked just talking."
Looks like Syracuse offers everything he wants. One flaw may be Morris' recent transition to the position. He was playing linebacker and nose guard before Wofford took the reigns at Central Gwinnett last season. The coach believes Morris is only going to get better, and that his ceiling is sky high. While Morris is only a three star prospect, Wofford has no doubts that his back will turn heads and become a big name at the next level.
"He is going to be an under the radar player you don't know where he came out of, but five years down the road people are going to see he how good he is and ask hey where did this kid come from."
Morris will visit Illinois, Vanderbilt, Western Kentucky, South Florida and maybe more schools before he makes a decision. The back hasn't whittled down his list yet, and isn't expected to come to a decision until late summer.
Posted: Dave Van Moffaert
(adsbygoogle = window.adsbygoogle || []).push({});