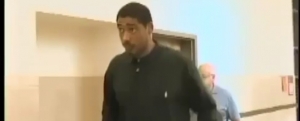 The news around Fab Melo gets worse, and we may not be far from Syracuse divorcing itself from the player. A source close to the victim tells The Fizz Fab's temper was a major factor in his two-day February hiatus from the basketball team, ending in suspension.
A report by 
Syracuse.com reveals
Melo's relationship with his girlfriend had been volatile for some time. This comes on the heels of
yesterday's report
by
Team Fizz
that Melo was still under investigation for more serious charges than the misdemeanor he's been slapped with. A source close to the situation tells 
The Fizz
that a previous time Melo had been aggressive with the victim directly led to his suspension during the season. According to the source, who spoke on the condition of anonymity, an incident occured on Wednesday, February 9th.
"Fab pushed his [girlfriend] to the ground. She had to go to the hospital. She had several bruises… she claimed she fell down the stairs."
Following that, according to the source, Melo "turned off his phone and left. Coaches couldn't get in contact with him. Two days later he said he was dealing with personal issues in Brazil." The incident was never reported to the police. He was suspended for games Feb. 12 (Louisville) and 14 (West Virginia) and played a total of ten minutes over the next three games.
Officially, Jim Boeheim said Melo was suspended for missing practices. At the time, Melo explained his absence from workouts, "I didn'Äôt tell them. (Boeheim) knows I have problems with family, but I didn'Äôt tell him.'Äô'Äô
In the three games following Melo's return, he played a total of two minutes. Interestingly, this stretch coincided with Boeheim's seemingly unsolicited attacks on the Post-Standard for its coverage of his losing streak to Rick Pitino. Was The Per'fesser blowing off steam tied to frustration with his freshman center? Or maybe creating a fire to deflect attention on what was happening with Fab?
Fab took to Facebook today to admit at least some guilt and sounded resigned to the fact he will not be returning to the Orange. He referred to his time in America in the past tense.
"When I came to Syracuse, I was supposed to focus on school and bball but things went out of my control, I made mistakes and I will deal with it. These 3 years in U.S. was great for me, some people may think the opposite but what I've learned in here nobody will take from me."
Details from the police report sound like scenes from a Lifetime movie:
'Äú'Here, you want my blood,' she quoted Melo as saying as he smeared blood on her shirt.

She told them that coming to the police was 'her last resort,' records state.
"Melo became angry after reading two comments from two different men on the Facebook wall, she said. Melo threw down his computer on the floor, damaging it. As soon as he realized he had damaged it, he began throwing it against the walls.

Ross went to the apartment'Äôs bathroom and shut the door. She soon left the bathroom, grabbed her belongings and left the apartment. She was in her car when Melo came out of the apartment, picked up some dirt and threw it on her. Melo walked behind the car and demanded she open the trunk."
These police records confirm the source's recount of Melo's most recent incident to The Fizz yesterday during a phone conversation. During that call, the source said "(Fab) started smashing stuff into the ground, then went out and started doing damage to the car."
First Chief Assistand District Attorney Nick Trunfio declined comment to The Fizz this morning by phone. An email to Gary Sommer, Melo's defense lawyer, went unreturned.
If Jim Boeheim was willing to entertain the idea of revoking Dion Waiters' scholarship, how close are we to The Per'fesser washing his hands of the big man bust? Waiters was the best player in SU's NCAA tourney loss. Melo has been a project and disappointment from the moment he stepped on the floor.
But star or bench player, there's never going to be tolerance for domestic violence. It appears clear Melo has personal issues and is in need of anger management. It feels like a sad end for one of SU's most highly-touted recruits of the last decade. But an end that's probably inevitable after this.
Posted: Ted Conroy
(adsbygoogle = window.adsbygoogle || []).push({});