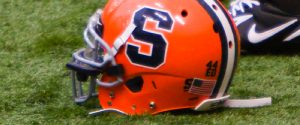 It appears there is a handful of recruits interested in Syracuse, but the Orange coaching staff doesn't seem to have the same interest in them. As the summer recruiting season heats up, the Orange is remaining quiet on some intriguing prep standouts.
The Fizz readers always have the pulse of the recruiting trail, which means we get solid insight like this comment via Dr. Bill from last week's Ryan Morris post.
"Read all of the articles out there about 3 and 4 star prospects who say they are interested in the Cuse, they have offers, but they are saying they can'Äôt understand why the coaching staff is not contacting them. That is what is strange. As far as Devin Fuller goes, he has an offer from SU, is interested in SU, but has not had any contact with the SU staff. This kid is the 9th-rated QB in the country. Why are we not all over this kid?"
It's a valid question to ask for a program that's still trying to build into an annual contender. Alabama, Florida and Oklahoma can afford to be picky, but can the Orange? Dominic Twitty, a 6'Äô 3'Äô'Äô 265-pound defensive end out of Rancocas Valley High in New Jersey, is one of those prospects with interest in Syracuse that hasn't been reciprocated. The Fizz spoke to the three-star DE recruit'Äôs head coach Dan Haussman, who says the 'ÄòCuse has everything his player likes in a football program.
"He liked the tradition of Syracuse, they get a lot of coverage down this way, and it is familiar for him. He wants to get away from this area (New Jersey). He likes the proximity of Syracuse and he likes the school. He likes the cold too."
A recruit that enjoys the Syracuse weather wise!? That's a once in a lifetime opportunity. Combine that with an interest in the school and an appreciation for the lineage of SU football and it seems like a slam dunk. Unfortunately for Twitty, playing in the Dome may be more dream than reality.
"He thought that Syracuse offered him, but apparently there was a miscommunication between the coaches. Syracuse hasn'Äôt come through with a full offer yet."
Twitty isn't the only one who thought he had received a scholarship offer from the Orange. Scout.com and¬†247sports.com both have Syracuse offering the big defensive end a scholarship. It hurts to see a talented player who is attracted to SU that never even gets an offer. This is a golden opportunity to reel in a three-star recruit that wants to play at Syracuse. However, Twitty is losing interest in 'ÄòCuse.
"He really did like Syracuse, but what happened with the coaches is unfortunate. We thought he had an offer from there but apparently he didn'Äôt. Other schools are offering, until (the Orange) come through with an offer, it isn'Äôt really a top interest of his."
The Orange may be missing out on a defensive end that is not only a large body, but also very mobile as well.
"He is a dominant player. He is strong, he is a big and a defensive end that can move well. His best attribute is how much ground he can cover. Off the defensive end position he has two interceptions because he can move so well. He covered two guys in the flat last year and two big interceptions because of his coverage skills."
To go along with those two interceptions, Twitty registered 45 tackles and seven sacks last season for Rancocas Valley. Dominic is described by ESPN as a player with flashes of raw talent that can lead to a productive college career. ESPN adds he has the ability to quickly side-step and work past blockers with the aid of his hands. He closes well on the ball and is a solid wrap-up tackler.
Right now, Minnesota is at the top of his list. It's hard to understand why the Orange has not offered Twitty a scholarship. He is a three-sport high school athlete, has an interest in SU and doesn'Äôt seem to bring any baggage along with him. Haussman describes Dominic as very welled-mannered, quiet and to himself. No off the field issues to worry about (which can give the athletic department a sigh of relief)¬†and it's clear that he has the ability to contribute on the field.
Haussmam reiterated that Twitty loves the cold weather and wanted to get out of New Jersey. Haussman says his defensive end is looking for a good business school and is driven on getting a degree. Syracuse gives Dominic a great academic atmosphere and a good business school too.
Wherever Twitty ends up, his head coach has not doubts that he will be a huge contribution at the next level.
"He is determined. He wants to get out of Mount Holly, and he is determined to succeed and he works hard. He will be successful."
Posted: Dave Van Moffaert
(adsbygoogle = window.adsbygoogle || []).push({});