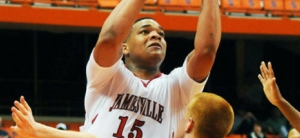 The very critical month of July is underway for the 2012 basketball recruiting class, and Syracuse's battles are starting to heat up. The big prize Orange Nation has its eyes on is DaJuan Coleman, the local kid with a big body and great post game. The quest for his services is intense, and he and several of the nation's other top recruits are at the LeBron James Skills Academy in Akron, Ohio.
Watching these high schoolers will be rafters packed with prominent college coaches including Jim Boeheim, Jim Calhoun, John Calipari, Jamie Dixon, Steve Lavin, Coach K and Jay Wright. Many of them covet the same players as Boeheim, especially Calhoun and Calipari, who share multiple common targets with the Orange. The ability of the SU staff to secure commitments against these other top schools could make or break the class.
Coleman is the one prospect the Orange will be most pressured to land. While the football program is still trying to land its first big fish, Boeheim and co. have nailed down some of top recruiting classes in the nation. Coleman will be tough, though. He's a top 5 talent, and Kentucky is hot on his trail. The Fizz believes the Wildcats may have a slight lead over the Orange, but these two schools are clear ahead of the pack. Coleman spoke at the James Academy and said that despite living in Syracuse, he needed to check all options and pick what'Äôs best for him. Those comments have Syracuse locals concerned.
Another prospect Syracuse and Kentucky have a mutual interest in is Ricardo Ledo, who is also in Akron for the camp. He seems to be leaning towards the Wildcats right now with Kentucky his only confirmed campus visit. Calipari has a shaky reputation for lack of compliance, but it's undeniable his incredible success on the recruiting trail. Kentucky has been chock full of 5-star players and McDonald'Äôs All Americans. Syracuse is certainly a heavyweight when it comes to recruiting, but the recent success of Kentucky is scary.
The Orange has its hands in on many top-flight kids, but it looks like the difference in a huge haul will be beating Kentucky at least once. Boeheim/Hopkins/Autry's sales skills will be tested and all eyes in Central New York are on whether Coleman will be fitted for an Orange jersey next season.
Posted: Alex Plavin
(adsbygoogle = window.adsbygoogle || []).push({});