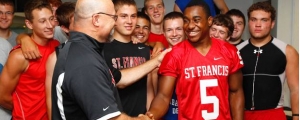 An Upstate New York product scooted past Syracuse when Buffalo-area running back Akeel Lynch chose Boston College over the Orange and Penn State yesterday. It appeared SU was not a finalist for Lynch, as reports suggest he selected the Eagles over the Nittany Lions. But SU did offer Lynch a scholarship and according to the Buffalo News, so did Duke, Cincinnati, UConn, Buffalo and Akron.
Lynch told the Buffalo News (picture courtesy):
"The offense fits my style, it's the zone offense that we run here. Also, their ability to move me around [on offense], which I really like. I think what really made the difference were the coaches. They made me feel like I was part of the family. I think that's key in anywhere you go, because after football you got to have people to help you succeed in life."
Lynch's feelings of family on Chestnut Hill sounds awfully familiar to what The Dougie is selling. Competing against BC's zone offense may not have been anything the Orange could have countered. But note that now two high-profile Buffalo products have chosen the ACC – Lynch and Chad Kelly.
"I was leaning [to BC] throughout the whole process. BC started pulling me in, pulling me in, so I just said, 'Let's get this over with and start focusing on our season.'"
Lynch's story is an interesting one. He was born and raised in Toronto, but moved to Buffalo to play at St. Francis to up his exposure in hopes of nailing down a better D1 scholarship. At the epicenter of pucks, NCAA football coaches are rarely patrolling Maple Leaf Land for their next great running back. Smart move by Lynch – he had offers from six BCS schools.
He earned a spot on the All-Western New York second team with 828 rushing yards on 121 carries (6.8 y/a). He scored 10 touchdowns, including five in one game during a 49-21 win at St. Joe's.
It's hard to fault SU on missing out on Lynch. He was only in the Orange backyard since the beginning of last season. To beat out schools like Penn State, and even to a lesser degree Boston College, Syracuse needs to build a relationship and a bond from an early stage. If the big boys come calling after just one season in the States, at this point in its football timeline, SU will find it tough to win that battle.
Tough summer on the running back front for the Orange. Tyree Smallwood may miss this season, while David Perkins chose Notre Dame at the last minute (although that may not be final). Nevertheless, it's been a solid recruiting haul this summer for Marrone's Marauders. And with the return of the SU and BC rivalry, we'll see Lynch back at the Dome for some friendly payback soon.
Posted: D.A.
(adsbygoogle = window.adsbygoogle || []).push({});