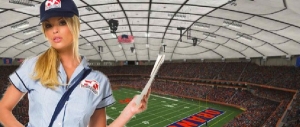 It's never good when your program is dealing with as many arrests (two) as Media Days within one week. Syracuse football has opened up camp, but fans have been left discussing what's happening off the field Рnot by scratching their heads, but punching themselves in the face repeatedly. Marcus Sales' situation is an ugly one, and it's not hard to imagine Doug Marrone cutting bait with a Groobers recruit who once again finds himself in hot water.
"Marcus Sales probably will get kicked out of school, let alone the football team -Brian"

"Why in the world would he drive a car while drinking without having a license and having drugs in the damn car? Why? The only thing for the coach to do is kick him off of the team and the university to expell from school. -ron"

"@rwrate: @OrangeFizz He'll be summoned to a meeting when Marrone gets back from RI. I'm sure he'll bring his playbook with him. Stupid & Selfish."

"As much as we as football fans would like to find a loophole in this situation and see Marcus play for the Cuse this year, no way. Even if his brother takes the rap for the drugs. There is no way Marcus did not know the situation he put himself in. Sad. -cansrgreat"

"As much as we need a good WR, we need the team to know this does not happen at SU. He has got to go! -Bill"
It'Äôs always imperative to let the legal system play itself out, but the facts are Sales was driving the car with drugs and alcohol in it, while also admitting to drinking that night. It's hard to believe he was unaware of all the drugs and paraphernalia in the vehicle. If convicted on the drug charges, he should be gone. No question. Problem is, Sales'Äô trial has been delayed until February, so for now¬†Marrone has suspended him from the team along with Boneheaded Dope #2 of the Week, Jonny Miller.
"@SkeeterJeter02: @OrangeFizz quick somebody lock antwon bailey and ryan nassib in a cage and throw away the key"
Throw Van Chew, Chan Jones, Marinovich, Phillip Thomas and Spruill in there too.
"I think marrone should let all these guys off the hook. They are kids being kids. Innocent until proven guilty. miller only took the kids phone its not like he stole his car. -mdb80"
Seriously? He 'Äúonly took his phone?'Äù True, but that was after punching the victim in the face at 3:30a and also stealing his cash. It's not just kids being kids. Get a grip.
Follow The Fizz on Twitter for live updates on SU football
Miller was getting a scholarship to essentially hold a clipboard. At best, he's the 4th string QB (if he could hold off freshman Terrell Hunt). He's not even sniffing the field to run the scout team. After shoulder surgery his throwing motion has been so messed up he can barely throw a football.
For a campus of 10,000 students planning on being in debt for the forseeable future thanks to paying their way through one of the nation'Äôs most expensive schools, this is infuriating. Anyone could do his job. Stand there, play catch on the sideline, show up to meetings and have schooling paid for (officially $50,921 for the '11/'12 school year). How are you idiotic enough to screw that up?
Deep breath. And on to happier tales from Big East media day. Kinda.
"HCDM says SOMEONE(4/5 star) must commit from NYS, before we can get the top talent year in and year out from NYS and beyond. But U. of Minnesota just got a verbal (4 star) from a WR from Minnesota. WHAT!!! Is U. of MINN better than us. NOT!!! Why can'Äôt we get this top talent from NYS. Its all about what is going on in the CUSE community. HCDM thinks UTR, NR and 2/3 star talent will get us there. What if this does not work??? -Terry"
"Its all about facilities, facilities, facilities. period. -Chris"
"Def agree with Chris. Minnesota just had a brand new outdoor stadium built, which got them out of the metrodome. And playing in the Big Ten doesn'Äôt hurt either. -OrangeCrush22"
You guys are spot on. Guys want to go to a program that feels fresh and new, and while clearly the culture and results are changing under Marrone, the Carrier Dome and current football facilities are dated and stale. Minnesota's new stadium is awesome, the Gophers go on the road to play in some of the best atmostpheres in college football and play in a supremely better conference.
Marrone is right. It's going to take a leader who wants to play for SU to make that leap and open the floodgates. But it may also have to be a kid who has dreamed of wearing Orange his whole life. Considering the four basement-dwelling years of Groobers, chances are this kid just doesn't exist right now.
Remember to continue conversing with The Fizz through the comments section under all our posts and via our Twitter page. Thanks for everyone that sounded off this week. This week's FizzCast features Ivan Maisel from ESPN.com previewing the Big East conference and much more.
Posted: Craig Hoffman
(adsbygoogle = window.adsbygoogle || []).push({});