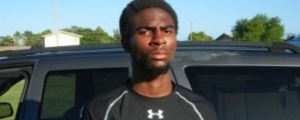 As North Miami Beach (FL) product Ritchy Desir turns heads for Syracuse, his teammate Corry Omeally is being targeted by the Orange as well. The Fizz was at the forefront of the Desir buzz last month with our conversation with Larry Bluestein of the Miami Herald. Since then Desir has made plenty of noise including an impact performance at the Ernie Davis Scrimmage Saturday. Omeally is a WR/DB and is right now being recruited by Scott Schafer himself.
Follow The Fizz on Twitter for live SU recruiting news
Omeally said back in March he had two offers, one from SU and one from FIU. The Golden Panthers are looking for him to play WR Рas you might expect with Schafer Рthe Orange want the rising senior to play DB.
"I think they're both good programs. Last month our QB (Desir) got signed to Syracuse. A couple of our guys are at FIU too. They're both good programs."
Since that interview, Omeally has picked up two additional offers (Western Michigan and Big East rival West Virginia). When you watch the SoFla product on tape:
1) On the offensive side, he has incredible wheels. Florida is known for its speed and Omeally constantly runs by people for deep balls or blows through the defense on short passes.
2) He can cover outside and inside. Omeally seems equally comfortable split out on an island or in the always tricky slot. He spent a lot of time inside for his junior year which could lead to him immediately contributing as a nickel back at SU.
3) He's not afraid to hit. Desir proved Saturday at the scrimmage he wasn't afraid to stick his nose in and pop somebody, even at one point losing his helmet in consecutive plays. Omeally takes that same attitude and is very good in the open field. One play in particular stood out from his tape: he followed his receiver across the field on a reverse, weaving through blockers and teammates going the wrong way, to hunt down his man and make the play.
The Fizz Scouting Service agrees with the interest Doug Marrone has shown. Watching this kid is impressive. Omeally recently said his recruitment has slowed down and he'Äôs focused on his season. He won'Äôt take any visits until after the season and says he'll visit SU, WVU, FIU, Vanderbilt and North Carolina. Vandy and the Heels have shown growing interest but not offered. Can the Orange land another dynamic playmaker from NMB High School? The one on campus is already making his name.
Posted: Craig Hoffman
(adsbygoogle = window.adsbygoogle || []).push({});