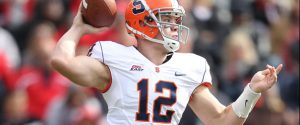 Syracuse has announced its team captains for the upcoming season as running back Antwon Bailey, corner Kevyn Scott, and fullback Adam Harris. Conspicuously absent from that list is quarterback Ryan Nassib.
Bailey, Scott, and Harris have been formally anointed as the squad's emotional leaders. They were chosen by a vote of their teammates to rep the Orange offense, defense, and special teams (Harris, also expected to be the starting fullback, is the special teams captain). All three represent the Orange well in the classroom, community and on the field for what hopes to be a season on the rise for SU. Aside from playing significant roles on Saturdays, few would question why teammates would select these three as their captains.
Some might question Nassib not being selected, though. In any offense, the quarterback must be a leader and command respect in the huddle. Orange success is dependent on the junior signal-caller to step to the forefront. So why not give him the "C"?
The simple answer is the three chosen players are all seniors and Nassib is really only a redshirt junior. Reading deeper and suggesting it's a poor reflection on Nassib is an overreaction.
Although the two are often related, there is a difference between a 'Äúcaptain'Äù and a 'Äúleader." A player does not necessarily need to be one in order to be the other. Captaincy may honor players who'Äôve been in the program longest. It can also recognize their hard work, and being respectable young adults off the field and in the classroom. Not to say Nassib isn'Äôt any or all of those things, but the three captains all have those qualities.
Leaders are not voted on to lead. They just do it. And Ryan Nassib can do just that for the SU offense, with or without the title.
The honor of captain in college football seems better appropriated for a player like Harris than Nassib. It's the perfect way to recognize a kid who worked his way from walk-on linebacker to starting fullback. He'Äôs labored through a transfer from Cornell and a position change to turn himself into an impact player for Syracuse. As a former Ivy Leaguer, he is the definition of a real student-athlete at SU, which should not be overlooked in today'Äôs college football.
Recognize the senior fullback as a captain of this team; he's earned the honor. And if Nassib needs a "C" on his chest to command respect in the huddle, well then he probably wasn't cut out for the job anyway.
Posted: Steve Neikam
(adsbygoogle = window.adsbygoogle || []).push({});