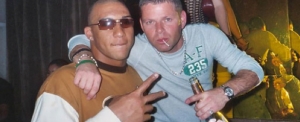 In the wake of the latest Miami scandal, Syracuse fans should pause for some perspective. In the current college football climate, there is undoubtedly a frantic arms race that plays out on a daily, sometimes minute-by-minute, basis. We here at The Fizz are guilty of it as well, alongside all in Orange Nation, beating the drum for SU football to get better, quicker, now.
During the Ohio State fall out in May, I wrote how lucky we should feel:
"As Jim Tressel hangs from the proverbial noose, his reputation and program in tatters, Syracuse fans should once again look up to the college football heavens and wink that Doug Marrone has been sent to navigate the football program on the Hill.

You like to give high school kids second chances, but The Dougie would be wise to avoid being tantalized by skilled players whose attitudes don't mesh with the culture at SU. There's no shortcut to success. Build it the right way and you never have to worry about who's looking through the windows.

The media glare is harsher. The news cycle more vicious. Therefore, the NCAA has to grow sharper teeth to cut through programs. Feel satisfied Marrone is steering this ship, because at least on the surface, it appears he'Äôs running a clean, successful program. We should all be thankful Marrone is the one calling the shots. But as a football program gets bigger, there'Äôs more and more forbidden fruit. Hey Dougie 'Äì just leave it on the tree."
We celebrate recruit commitments within moments of these players choosing SU, we question why the Orange can't land bigger talent, we lament every loss and ask if the plan is actually working. While the heat lamp in Central New York is not nearly as hot as Columbus, Norman, Ann Arbor or Gainesville, there is always a pressure in BCS athletics to win. And often we don't care how.
This is where we should applaud Doug Marrone. It would be naive to think Syracuse is the purest program in the land. It's only rational to believe, even in the Big East, there's some shadiness to landing football recruits or building a winning program.
And SU has had its fair share of headaches this offseason alone, from Ashton Broyld's junk drop, to Marcus Sales and Jonny Miller's bone-headed nonsense. It's not like Marrone is the Dali Lama. But as programs like Ohio State, North Carolina and now The U shake at the foundation, Marrone isn't looking to build the quick fix.
Make no doubt about it, The Dougie wants to win. And he wants to do it yesterday. When I spoke with him at Big East Media Day, he admitted he doesn't really have time celebrate the Pinstripe Bowl win. He is just getting around to re-watching and reviewing his 2006 season with the Saints. His focus is always straight ahead, onto the next challenge.
But there is a patience Marrone demands when he discusses SU's long-term aspirations. He reminds you how obliterated the recruiting relationships were when he took over. He understands the scorched Earth he inherited from Groobers. This is not about adding a slew of jucos, making a lightning fast run at the conference and then jumping to the bigger school (Brian Kelly). This is about building a winner, a better culture and a healthier program one brick at a time.
Surely Marrone has been tempted to take a short cut or two. This cannot be an easy process. There are always power-brokers that would like to steer you towards a recruit, always a rule or violation you could knowingly step-over. But, it has always felt like the integrity of his alma mater has been Marrone's priority. Winning is important, but not if it's compromising.
No one should be blind enough to believe that any major college athletic program is completely innocent. We know too much. This is a long and sordid history. But the widespread scandal that has swallowed some of the country's preeminent programs is not creeping near SU with Marrone at the helm. As Miami falls into the murky waters with other college football powers it's important to remember, Syracuse can't become a champion overnight. At least not legally.
Posted: D.A.
(adsbygoogle = window.adsbygoogle || []).push({});