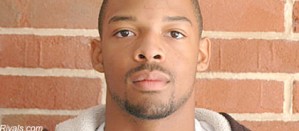 Syracuse fans have been waiting desperately for The Dougie to land a big fish in recruiting, and some may view the commitment of James Washington that way. The Winter Park (FL) defensive end had offers from Purdue, Illinois and South Carolina. The Orange beating Big 10 and SEC schools to a kid must be a major coup, right? Not necessarily.
Look, SU adding a player who was respected by bigger football programs is always a positive. And The Fizz has forever banged the drum for Marrone and Co. to keep plucking those speedy athletes from Florida. We just can't get too carried away that Washington's commitment somehow is the turning point for the program's recruiting battles.
The Post-Standard wrote: "With an offer sheet that features more than 20 schools and includes the likes of South Carolina, Boston College, Purdue, Illinois, Pittsburgh, West Virginia and Cincinnati, Washington is likely the most sought-after player the Orange has landed since Doug Marrone became head coach in December 2008."
Well, is that actually true? Not that scouting services are the gospel, but Rivals has him ranked as a three-star commit, Scout has him listed at just two stars. While Central Florida produces plenty of high-grade talent, the Orlando Sentinel had him listed as just the 12th-best prospect in the area. Both Brandon Reddish and Max Beaulieu were more highly-regarded than that. And the timeline of his offers is intriguing.
From the Sentinel: "In April, Washington was wondering if he would even have a choice to make between colleges. He had offers from Duke and Cincinnati, but wasn'Äôt hearing much from any other schools.
Florida International extended his fifth offer and from there, Washington could hardly keep up. Now he has 17 offers, including South Carolina, West Virginia, Illinois, Pittsburgh and Purdue, among others."
So, it looks like he was hardly on the radar until the spring, but after the FIU offer teams flocked to him so they wouldn't be left looking like whiffed completely. Washington even admitted he was concerned about the lack of attention.
"Kinda because I felt like I wasn't working hard enough. But then when they started finally coming in, I felt kinda relieved and so then I started wanting to work harder."
In fact, Washington admits he's still not 100% sure he's headed to Syracuse.
"I just wanted to make an early commitment. I'Äôm going up there next week to visit and I just decided to commit early. Right now I'Äôm like 85 percent committed because I want to see the campus, but they pretty much got me. ¬†I'Äôm pretty sure I'Äôll fall in love with the school once I get up there.'Äù
Picking up Washington's commitment is a solid addition, certainly if he develops into a solid pass rusher. Services are not the end-all, be-all and getting in late on a kid is better than not getting in at all. But we shouldn't misguide Syracuse fans into believing this was the big fish SU had been hoping to land all along, because that's just not true.
Posted: D.A.
(adsbygoogle = window.adsbygoogle || []).push({});