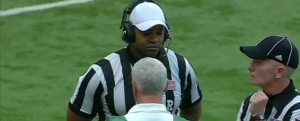 Thank goodness the officials royally suck at their job or Syracuse would've been handed a crushing defeat at the hands of Toledo yesterday. The Big East is now admitting the officials screwed up the PAT decision near the end of regulation. If I were a Rockets fan, I'd be hacked off. But taking my Orange bias out of the equation, as a college football fan this is horrendously unacceptable.
Let's begin with the fact there is exactly one job, and one job only, for the officials on a PAT kick. To watch whether it's good or not. It's extraordinarily rare for any other call by an official to be made on an extra point. There's never a holding flag thrown. No one ever gets called for 12 men on the field. The line judge is stationed underneath the goal posts.
The sheer simplicity of it is almost mind-numbing. Can you imagine staring up at a bright yellow pole and having only to decide whether a dark brown object went to the left or right of it? It's beyond embarrassing to be unable to do that job successfully.
The inability to correct it via replay is merely the icing on the idiot cake. TV replays pretty clearly proved Krautman had missed left. After the day was over, the league office saw enough evidence to publicly admit it was a mistake. Did the Big East have access to different angles? Or did the officiating crew melt under pressure, paralyzed by the moment and embarrassed to admit a mistake?
After learning of the league's statement, Toledo head coach Tim Beckman said,"When you come into these games, I think we've learned as a football team, and as a coaching staff, it's us against the world." This is patently stupid. I'm pretty sure SU had its fair share of shaky penalties called against the Orange yesterday. The Rockets could have gone for the touchdown in the waning seconds instead of a tying FG. The officials didn't throw the interception in the end zone in OT.
The problem is a culture in college officiating (and the NFL) of leaning on replay to make your decisions for you. It has made officials lazy. "Wait, I missed that kick. I was staring at the chicks in the student section. Can you check that on replay? Thanks bro." While Syracuse benefitted from the gaffe yesterday, the Orange could easily be on the short end of this type of mistake later in the year. It usually evens out.
Hey, we'll take the 3-1 start and escaping with a victory over a MAC team that played its guts out. But it doesn't erase that sickening feeling that college officials can be pathetically inept and it may hurt the Orange sometime down the road.
Posted: D.A.
(adsbygoogle = window.adsbygoogle || []).push({});