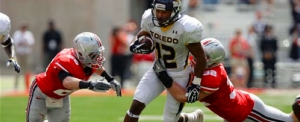 (Update – 4:05p) Does Syracuse deserve credit for finding ways to win its third tight game? Or criticism for letting another inferior team hang around and make it far too interesting? A little bit of both. Toledo – as we told you earlier this week – is not your average MAC team. The Rockets went to the Horseshoe and almost left with a victory. They stood toe-to-toe with one of the best in the country, Boise State, for a half. Toledo went on the road and beat Purdue last year. This is what they do. Hang tough with the bigger kids in the school yard.
But SU needs to be able to put away opponents before its last breath. Another slow start almost doomed the Orange, falling to a 10-0 deficit before getting to work. Thank goodness the officials were so blind they missed Ross Krautman's failed PAT (twice) to make it 30-27. The fact they had to use replay after standing underneath the goalpost and still got it wrong is embarrassing.
The running game stepped up, led by an explosive Prince Tyson Gulley. Ryan Nassib once again proved to remain calm under pressure. But the defense still has work to do after allowing Toledo to drive the field to force overtime, failing contain against a mobile quarterback frequently and allowing Eric Page to look like… well, Robert Woods.
We saw this coming here at The Fizz. Luckily, the Orange found a way to win and is halfway home to bowl eligibility. Here was the gameplan we laid out on why Toledo had a great shot at winning inside the Dome.
* * *
While Syracuse fans may be breathing a sigh of relief the Orange come home to take on Toledo, be careful because the Rockets aren't your average MAC team. Toledo has both speed and talent, and SU needs to avoid heading into conference play with a 2-game losing streak.
Follow The Fizz on Twitter for up-to-the-minute SU football news
Why should the Orange be worried? Let's look at the reasons:
Toledo can hang with the big dogs.
First, Toledo has played elite teams close. The Rockets took Ohio State to the final play of the game in Columbus and almost pulled off the shocker. They also kept it close with #4 Boise State for a half before the Broncos pulled away.
UT has been there before.
The Rockets also return 18 starters. They have depth and experience in almost every position and the Carrier Dome atmosphere certainly won't rattle them since they've seen much bigger stadiums already this season. Toledo has a stud wide receiver in Eric Page, who has big play ability Рsomething the Orange has had trouble with this year. When contrasted with the youth of the Orange, that experience for the Rockets could pay huge dividends. SU needs to work hard to avoid mistakes.
The Rockets love to play giant-killers.
Toledo also has a frightening history of knocking off at least one BCS team each of the last 5 years. The Dougie mentioned this in his weekly press conference and it'Äôs definitely noteworthy. The Rockets have a knack at beating the big dogs, including Michigan at the Big House and winning at Purdue last season. The MAC is also not a conference to take lightly. SU fans still have images of Akron putting up 42 points at the Dome in Groobers' catastrophic final season.
The Orange is still fixing its own problems.
It's a combustible mix for a Syracuse team with its own struggles this season. The Orange squeezed out a win against Wake Forest against a backup quarterback, toughed out a one score victory against FCS Rhode Island and were outgunned by USC on the road last week. The Orange has has trouble establishing a run game and defending the pass, and mobile QBs give SU fits. Syracuse may also be without two of its best defensive players in Chandler Jones and Shamarko Thomas.
For an Orange program with its eyes still set on competing for the Big East title, knocking off a MAC team at home should not be that daunting. But this not your normal non-BCS program. Syracuse cannot afford to take Toledo lightly, or else it wouldn't be shocking to see SU drop its second straight.
Posted: Alex Plavin
(adsbygoogle = window.adsbygoogle || []).push({});