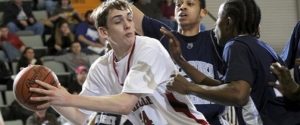 (Updated: 8:24a) While Orange Nation had hoped landing Tyler Cavanaugh could help sway Dajaun Coleman to the Hill, that dream scenario is now out the window.
Cavanaugh, the J-D perimeter threat, did not end up taking all of his scheduled visits and instead chose Wake Forest over Syracuse, Notre Dame and Davidson. Apparently, Tyler loved the Winston-Salem campus and hit it off with the coaches quickly. Syracuse has already landed Jerami Grant for  the '12 class. The Orange are still heavily targeting Amile Jefferson and, of course, Coleman. The courting of DC 2.0 has taken many twists, with plenty of speculation on what it would take to keep him home. Unfortunately, balling with one of his high school teammates is no longer on the board.
* * *
The long and arduous recruitment of Dajuan Coleman is nearing its final stage with Coleman set to visit his final three: Kentucky, Ohio State and Syracuse. According to recruiting insider Adam Zagoria, DC 2.0 will visit Columbus next weekend and OSU big man Jared Sullinger has been giving Coleman the hard sell.
Coleman will visit Lexington during UK's Big Blue Madness in mid-October. He has no official visit on the books to SU, but that's nothing to be alarmed about since he lives in town.
DC is no longer the only Jamesville-Dewitt kid Syracuse is interested in. Add Tyler Cavanaugh, who's 6′ 8″ and still growing, at wing to SU's targets. The Orange offered him a scholarship soon after Wake Forest became the first major school did so. Cavanaugh is intriguing, because despite playing in SU's backyard it took until a few weeks ago to get a scholarship offer.
The recruitment of Cavanaugh has really stepped up lately. Just a few months ago he had no offers from high majors, but after a big summer he now has a visit scheduled to Notre Dame. The Irish has become a familiar face on the recruiting trail. The battles over Ishaq and Boom are famous on the football field, but the 'Cuse is also competing for talented wing player Jerami Grant with ND.
Cavanaugh has talked about how much he likes to play with Coleman and perhaps their relationship could be helpful in the recruitment of the highly sought-after big man. Don't overlook Cavanaugh though. Syracuse has an excellent history with J-D kids in recent years and he has the potential to silence some doubters.

Remember the last time an under-the-radar J-D product ended up at Syracuse, he developed into an NBA-ready sharpshooter. Cavanaugh might not be Andy Rautins, but appears to be a good fit because of his ability to stretch the D, something Syracuse clearly lacked last year. Brandon Triche has also  been discussed as a connection to bringing DC 2.0 to SU.
Despite many top recruits already committing across the nation, don't expect this pair to decide anytime soon. Both have campus visits to schools scheduled over the next month. Clearly Coleman is still the prize, but nabbing his teammate would also be huge for the Orange.
Posted: Alex Plavin
(adsbygoogle = window.adsbygoogle || []).push({});