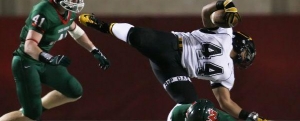 E.J. Fatu is one of the top fullback prospects in the country and Syracuse is battling other big time programs to nab him. The 5'10'' 245 lbs. tugboat hails from Klein Oak HS (Spring, TX) and is a combination of pure power and nimbleness. Fatu has generated interest from plenty of schools, but only holds a handful of offers to date from Michigan, Utah, Nevada, Arizona St., and SU.
The Fizz spoke to E.J.'s head coach, David Smith, who says his fullback is a multi-dimensional player with toughness.
"He is powerful, flexible, has the instincts to play any position. He lines up at the quarterback sometimes in the wildcat formation, he can throw the ball but he is a 245 pound running back/linebacker."
Fatu is a powerful athlete who dominates opponents with brute strength and toughness. He attended Nike camps this spring and was a complete animal. Not only was E.J. overpowering in blocking drills, he showed a quick first step and evasiveness in passing workouts. He impressed everyone at the camps. One of his coaches there said his impact isn't limited to blocking.
"He was right there for running back MVP. Fatu was right at the top and isn't just a great fullback prospect, he's a great running back period."
Last season E.J. rushed for 1,005 yards and eight touchdowns for the Panthers and also contributed in the passing game with 14 receptions for 168 yards and two TD'Äôs. While Fatu is most known as a running back, it's not even his favorite position, and will play anywhere he is assigned, says Smith.
"Here he enjoys playing linebacker probably more than playing running back. He runs under blocks, through block, he can jump off the ground; he is just athletic, like a cat at 245 (lbs.). But at the next level, anywhere he needs to play. Whatever it takes, he will undergo what the university likes him to do."
The majority of big time recruits look at academics and success of the football program. But for E.J., there's something else that'll be a huge factor for him Smith believes.
"Just people, he is a people person. He has to be with people he trusts, and he feels good around. That probably number one. He is a strong young man with a strong family, with pride and it's all about people with him. "
As for Fatu'Äôs thoughts on Syracuse? He's not talking to his coach about recruitment and favorites at this point. Smith says the only thing E.J. cares is one team, his own.
"I'm not sure because he is not even talking about that right now, he is just talking about us being successful here.  He has offers from several teams and he is not even thinking about committing right now, he is putting that on the back burner. So you know Syracuse is obviously in there with the other great universities, but he is not really discussing. "
Fatu has said in the past that Michigan, Utah and Nevada are high on his list, but he will look at every school that offers him. The Fizz believes E.J. could be a great fit for the Orange РMarrone loves adding players with great strength and good speed. Fatu would be best utilized as a fullback. Although SU has its goal line back of the future in Adonis Ameen-Moore, can you imagine the double thunder Fatu and AAM would provide together? Talk about a truck coming through the hole, that's just under 500 lbs. smashing in to you, and a touchdown waiting to happen. Oh, the dreams The Fizz has.
Fatu is not going to rush into a commitment, and will probably wait until season's end to make a decision. Until then, the SU coaches will try to sell Fatu they are the people he can trust. Orange Nation trusts he can make a major impact.
Posted: Dave Van Moffaert
(adsbygoogle = window.adsbygoogle || []).push({});