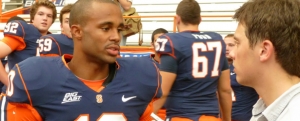 There wasn't much to feel good about after Syracuse's hair-pulling 37-34 win against Tulane down in New Orleans Saturday. One of the bright spots from the night was receiver Dorian Graham, who stepped up and passed the test of Doug Marrone's "open tryout" that he advertised earlier in the week.
"I told the team we needed someone to step up. They responded in practice. It was fast and focused. Let's see if it translates to the game."
The junior responded as the most integral piece of the Orange offense. He caught four passes for a team-high 55 yards and two touchdowns helping Syracuse jump out early against the Green Wave. He was targeted at least seven times by QB Ryan Nassib (more than Van Chew and Alec Lemon combined) and also had two carries for 22 yards, exhibiting his lightning quick, sub 4.3/40 speed. Marrone said after the game he had been trying to work Dorian into the game plan for quite a while.
"Dorian Graham has been doing better and better each week, he really has. And he's been winning for us Рand so when you have a guy who is winning, we're going to make sure we get him the football."
I'm sure Charlie Sheen would agree. It's pretty clear Marrone was trying to fire up his wideouts when he called the Tulane game "an open audition" for all scholarship receivers. We found out Graham is a necessary change of pace for this squad heading forward.
Despite his catching woes in the past, Dorian had a flawless night. The play of Chew and Lemon has become undoubtedly stale, and the return of Marcus Sales appears to be nothing but a pipe dream after his preseason arrest. Graham's two touchdowns highlighted the unique dynamic he brings to the table: a superb over the shoulder grab on a fade route, and a slick catch in traffic on a slant. Graham was stoked after the game.
"It feels great. It goes back to saying 'hard work pays off' and that is what came about for this game. I am glad to execute and help my team get a win."
Is the Dorian Graham bandwagon a bit premature? Maybe. This was a Tulane defense that has allowed 30+ points in five of its six games. But to echo Marrone, he needs new playmakers NOW. He needs receivers that can give him a different look, and Graham brings that to the table with his electric speed and quickness, which creates big-play potential.
It's also unlikely Graham will be a one game wonder. We'll continue to see more of Dorian heading forward and Nassib believes he'll be a critical piece of the attack.
"He's definitely a big weapon for us, and he definitely has some skill. We want to utilize him and get him the ball in space, and have him just run with it. He's a big, strong, fast kid that can break tackles and run away from people."
The options right now are thin, and Graham couldn't have thrust himself into the spotlight at a better time. Chew has just two catches in his past two games, and has seemingly fallen off the face of the Earth. Lemon isn't far behind, grabbing just two catches for 32 yards Saturday, 26 coming on a first quarter grab. Nassib seemed locked onto Dorian all night, and hopefully these two spark some chemistry in practice and keep it going when they come out of the bye. The offense needs it desperately for the final six games of the season.
Posted: Kevin Fitzgerald
(adsbygoogle = window.adsbygoogle || []).push({});