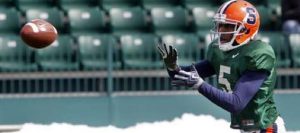 It's time to wonder if Syracuse's offense is hurting without Marcus Sales.¬†In this week'Äôs Fizz 5, we discussed how Ryan Nassib took a step backwards against Rutgers. There was lots of feedback, both positive and negative, on this sentiment and it was all appreciated and mostly valid. In the feedback from readers, there was one name brought up that hasn'Äôt been heard in a while – Sales. The wide receiver was suspended indefinitely by Doug Marrone before the season and he might be a reason for some of the Orange'Äôs offensive struggles.
For those that don'Äôt remember, Sales was expected to break out this year. He, like Nassib, had a monster Pinstripe Bowl and a great spring. Sales was easily the best receiver in the spring game ahead of Alec Lemon and Van Chew and would'Äôve given SU a great core of targets for Nassib. It's easy to like Chew and Lemon as a 1-2 punch but easier to love those guys as a 2-3 with Chew being a deep ball specialist and Lemon working out of the slot, which he does very well.
Sales was the best Orange route runner Syracuse had and a legitimate deep threat. He was an ideal #1 receiver. There was a reason he was a 4-star recruit coming out of CBA. There's also a reason we didn'Äôt see that until last year. Sales had (and still might have) immense talent but there was clearly something missing upstairs: common sense and a drive to be good, let alone great.
SU has had trouble punching the ball into the endzone this year. The Orange has 14 touchdowns to 9 field goal attempts. Most teams in the top 25 (SU's defacto goal considering it wanted to win the Big East) have at least double the number of touchdowns vs. field goals. Last year Sales (thanks to his enormous Pinstripe Bowl) finished second on the team in touchdowns and second on the team in receiving yards despite only playing in 6 games. In the games he did play in, he had at least 4 catches in all except the South Florida game, where his one 3-yard catch was a touchdown. He racked up yards in chunks and found the end zone.
There's plenty of good qualities to Lemon, Chew and Jarrod West, but why are the coaches drawing up a slant to Kyle Foster inside the 5-yard line? Is Nassib more comfortable this season? Absolutely. Is the Orange better than last year? Unquestionably. But Sales is¬†what Syracuse lacks -¬†a reliable go-to receiver.¬†Why was Marcus in that car with his brother? That, we'Äôll never know.
Posted: Craig Hoffman
(adsbygoogle = window.adsbygoogle || []).push({});