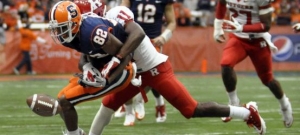 Syracuse's overtime loss to Rutgers was painful. Crazy Eyes Schiano running around everywhere. Fizz t-shirt icon Doug Marrone in disbelief as his team melted in front of him. And a special teams disaster as three kicks are the victims of poor blocking. Believe it or not there is good, but clearly there is plenty of bad, in this week'Äôs Fizz 5. We start with the obvious:
Nassib has taken a step back.
As I tweeted late in the game: "Ryan Nassib is more lost than a Hawaiian in Siberia." That's just the start of the Orange's offensive issues. Nassib looked to have turned the corner in the Pinstripe Bowl and followed it up with a great spring and solid start to the season. However. against USC he was ineffective at best. Last week against Toledo he was mediocre and this week the passing game was flat out bad. What had made him so good, despite his lack of big plays, was his ability to avoid turnovers. Against RU: Three to the wrong team, including one on the final drive and one in the red zone. No team is going to win like that. Ever. Just can't do it.
SU wants to redshirt Adonis. Whether you like it or not.
We should give this another week, but it's quite obvious that SU may need another back and Jerome Smith is not the answer. He's had two carries in big spots this year where he'Äôs needed to get a yard. And unfortunately the 'Äúpower back'Äù couldn'Äôt get it done. There are many frustrating elements of this. While Antwon Bailey has been spotty, he'Äôs been at his best inside the red zone. On 3rd & 1, after he'Äôs gained the first 9 yards, why bring in Smith? Secondly, we all want Adonis Ameen-Moore. Scouting reports from practice say Ameen-Moore has been better than Smith. If Prince-Tyson Gulley is indeed out, the Orange should inject some Adonis DNA into its offense, or it'll be trending like Charlie Scheen'Äôs acting career: downhill.
The Orange is outthinking itself on offense.
Some of Nathaniel Hackett's personnel groupings have left us scratching our head. Why is SU throwing screen passes to tight end David Stevens and the big-bodied Jarrod West, while the smaller Dorian Graham is left blocking?
Syracuse had a First & Goal, after a completion on a slant to Alec Lemon (who is SU's best underneath receiver) and a 6-yard run by Bailey. The Orange then runs a quick slant to Kyle Foster? That would be the freshman with as many catches this year as you. Nothing against Foster, in fact I think he'll be a good receiver. But when you have Lemon or West, possession receivers who can catch the ball in traffic and have made clutch catches this year, throw to them. That's if you decide to throw at all from the one, when your running back has a nose for the end zone.
The defense continues to improve.
Syracuse's defense played a very good game Saturday. Yes, the Scarlet Knights put up nearly 300 yards in the air, but it took them 57 attempts to do it and they ran for a net of 5 yards. Five.
The SU offense also put its defense in bad spots after turnovers. Rutgers' TD drive started at its own 41. The field goal drive before it? The RU 48. SU can'Äôt expect its defense to defend short fields and not give up any points. Missed field goals and good D kept Syracuse ahead for most of the game. If the offense hadn'Äôt shot itself in the foot or the special teams had blocked properly on one of three field goal attempts, Crazy Eyes'Äôs crew wouldn'Äôt have stolen a victory.
The secondary had its best game of the season. The TD to Sanu was a good play by Nova against a bad zone blitz call, where Deon Goggins was supposed to drop back and cover Sanu's area from his DT spot (that seems like a stretch). Mikhail Marinovich was in the backfield all day and became a major factor for the first time all year.
Dyshawn is nasty good, and not even close to his potential.
When The Fizz talked to Marquis Spruill a couple of weeks ago, he told us Dyshawn Davis was still making too many mental mistakes but that he was impressed with the freshman. Against Rutgers, he showed what happens when he doesn't make those mistakes. While he missed a couple of tackles, Davis also registered 6 takedowns (5 solo), 2 sacks and 3.5 tackles for loss. His highlight reel explosion in the backfield also created SU's first touchdown. Talk about an impact player and he's only five games into his career. Giggity.
This game was the ultimate karmic kick in the ass after last week's controversial win over Toledo. SU basically stole a game thanks to a gift PAT call, then the kicking game cost itself major points Saturday. As we head to New Orleans for Tulane this weekend, may I recommend a cafe au leit from Cafe Du Monde as the shot of caffeine this team needs. Get a Beignets too. Unlike giving the ball to Jerome Smith in short yaradage, you won't regret it.
Posted: Craig Hoffman
Photo credit: AP
(adsbygoogle = window.adsbygoogle || []).push({});