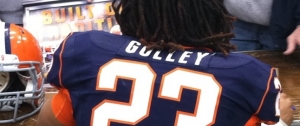 Should Orange Nation be worried Prince Tyson Gulley is done for the season, or is this just a ruse by Doug Marrone? A bizarre situation unfolded yesterday when SU retracted its media packet. The original game notes distributed at The Dougie's weekly presser had Gulley listed under the injured list and out for the season with a broken collarbone. That packet was then taken back by the athletic department and replaced with a new one that listed Gulley in his usual position, number two tailback. The first packet was deemed a 'Äúmistake'Äù by the athletic department. The story of the mistaken game packets began circulating over the internet and reported by media outlets yesterday.
This is unfortunately part of a trying season already for Gulley, who returned from the off-campus stabbing. But if Marrone made anything clear, it's that we shouldn't expect clarification on the subject any time soon and asked for patience from the media for the lack of information.
"In going forward now, this week I'm asking for everyone's help. We have a lot of things going on with this program. We have a lot of injuries. I'm not going to lie to you. We have guys who are banged up, we have to make a decision on players. Some players will be in casts, some players will be heavily wrapped up. Some people may practice, may not practice. We as coaches have to decide whether they will play or not. It's going to be a very difficult week for us as coaches as far as decisions because it's not a cut and dry thing. There's safety involved with players, and that's the number one goal 'Äì to make sure nobody is injured.'Äù
In asking for the media's understanding, Marrone apologized for being unable to discuss the situation further and for his decision to close practice this week and make players unavailable for comment.
"I know that everyone has a job to do. Truly, I understand that. I don't think anyone understands that more than myself, especially coming from Syracuse and the Newhouse School. I understand exactly what's going on. I don't foresee myself ever really doing this again, hopefully it will never be in this situation. But I just need some help and understanding. I'm specifically asking for some help because, strategically, it can hurt us in this game.'Äù
Marrone said he will be made available to the media Tuesday and Wednesday instead of the players. Marrone has said plenty of times he "wishes he could say more" about injuries, but why the extra interference this week?
One possible explanation is that he's is engaging in a bit of psychological warfare with his old nemesis Greg Schiano. Rutgers and Crazy Eyes Schiano are notoriously tight-lipped on similar matters. That might explain why Marrone believes this will only be a temporary situation for this week, and says that giving out any information could hurt them in this game.
Whether Marrone wins his mind games with Schiano or not, however, will not have nearly the impact on the Orange'Äôs season as whether his tailback gets back on the field. It seems odd that Gulley could be listed as having a severe injury if he were healthy. SU may have jumped the gun on the diagnosis. The 'Äúmistake'Äù may have simply been printing that information. Either way, SU will obviously take great precaution with a player who has any type of injury, especially something as serious as a broken collarbone, and not play him unless he's 100%.
Gulley had a breakout performance in Saturday's 33-30 win over Toledo, carrying ten times for 70 yards. PTG played a key role by sharing the load with Bailey in SU's most successful rushing game of the season. With the Orange already dealing with some key injuries on the defensive side, losing Gulley would deliver a big blow to the offense. Behind Gulley on the depth chart are Jerome Smith and Adonis Ameen-Moore, who have a combined one carry on the season.
We'll obviously know Saturday if Gulley is in fact injured. The Orange will either have to rely on other inexperienced backs or give Bailey a bigger workload than it would like. We may have to wait until gametime to find out anything official, but hey, at least Schiano will too.
Posted: Steve Niekam
(adsbygoogle = window.adsbygoogle || []).push({});