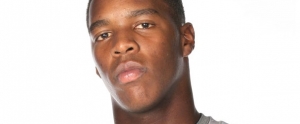 Josh Glanton  6'2''215 lb. linebacker out of Haines City High School (Haines City, FL), is one of those under the radar players that Marrone has been targeting down south. Josh splashed onto the scene registering 96 tackles, four sacks, two fumble recoveries and an interception last year season. The Fizz spoke to Glanton's head coach, Pete Barber, who said the strong side linebacker not only has great physical strengths, but his intangibles set him apart.
'ÄúHe is very smart. He doesn'Äôt play our mike linebacker and usually the defense goes through the mike for the calls but we let Josh handle all the calls for us. It'Äôs like having a defensive coach out there. He sets up our defensive formations and does a great job of play recognition. He is always around the ball and knows what is going on all over the field."
Glanton is the anchor of Haines City's defense. He flies to the ball and has a penchant for tackles in the backfield. He gets a great first step off the edge from his strong side position. Josh was named to the preseason All-Defense team for Polk County and is also one of Polk Prep'Äôs Super Sixteen selections, a list of the top 16 rising seniors.
(Glanton's highlights begin at 3:30 mark)
Glanton has all the physical skills to play at the next level. What would it take for the Orange to reel in the Florida product?  Josh is concerned most about the classroom.
'ÄúHe wants to go somewhere with strong academics. It is not just football. There is life after football and Josh knows that. The schools programs and academics are going to be a big factor in his decision for sure.¬†¬†Of course fitting in with the team and the style on the field is important as well. But when he talks to me it is mostly about the academic part and those school itself more than the football program."
Along with the Orange, Eastern Michigan, Western Michigan, Ball State, Western Kentucky, Florida Atlantic and Florida International have also offered scholarships. He is getting recruiting by SU's defensive line coach Tim Daoust who visited Haines City just last week. JG has built a good relationship with Daoust and really likes the academic programs SU can offer. Anther aspect making the Orange an attractive team? Yup, the move to the ACC.
"Being a Florida kid, Syracuse can seem like a far way off, especially for the parents. I think it will really help in the parents eyes as now they are in driving distances to come watch him play. It is a lot closer to home, Georgia, North Carolina and Virginia are a drive away. That can play a huge part in that decision."
The move to the ACC has been a huge positive in terms of¬†recruiting players in southern states like Joe Scelfo for Syracuse. The ability for recruit's families to see more games makes 'ÄòCuse a lot more desirable location to land. Marrone had been locked into that region of the country since he took over mining for athletes with speed. Glanton fits that mold and is the type of player that The Dougie has high on his recruiting system. Barber says Josh is going to visit campuses after the regular season is over, so don'Äôt expect a decision from him until later in the recruiting season.
Posted: Dave Van Moffaert
(adsbygoogle = window.adsbygoogle || []).push({});