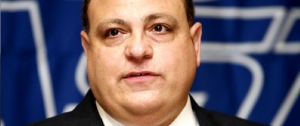 Well, this is now becoming hysterical (as long as you're one of the schools jumping ship). Just days after John Marinatto tried to sell us that TCU was staunchly committed to the flailing Big MAC, words pops that the Horned Frogs will bolt to the Big 12 after a vote. That would bring the midwestern conference to 10 schools, and to build it back to the twelve needed for a title game, reports say West Virginia and Louisville could get the secret handshakes as well.
"Four days after TCU president Victor J. Boschini Jr. assured Marinatto that his school was committed to joining the conference next season as planned, the Horned Frogs look to be Big 12-bound."
I mean, how much of a disgrace is the Big MAC turning out to be? This is like the party that was awesome around 7p, then disintegrated into a sloshy dude-filled boozefest around midnight, and now it's 2a and there's three kids in the kitchen doing whip-its.
"He told us over and over how much he wants this conference to move forward. There was no wavering at all from him," Marinatto told USA Today.
This is so pathetic it almost hurts to watch. Marinatto is getting stiffed by a program that has been in the WAC, C-USA and Mountain West in the last decade. You'd trust Marinatto to fix your fuse box, not your athletic conference. He was entrusted with one duty: save the Big East. So what did The Electrician do? Balked at ESPN's last television offer. Well played, Johnny.
How about this for a double-whammy for the Big MAC? The loss of Syracuse, Pitt and TCU would mean only six football-playing schools – and you need 7 to keep the BCS bowl bid. The solution? Oy vey.
"One possible restructuring possibility now for the Big East is to invite Navy for football only, add Temple and Central Florida for all sports and have Villanova make the move up to the FBS level in football."
If you're Rutgers or UConn right now, what are you thinking? "We're stuck with Navy and 'Nova? Someone grab the cyanide capsules." I mean, at least homecoming will be a blast for the Huskies and Knights. You have your pick of the litter of miserable, pitiful football teams to schedule.
If the Big MAC loses WVU and Louisville too, it's time to just focus all your attention on basketball. Let Rutgers, UConn and Cincinnati beg for mercy at the Big 10, Big 12 and ACC's doors. Huddle up Villanova, Georgetown, Marquette, St. John's and try to merge with the power hoops teams of the A-10. You have zero chance of being anything worth fighting for in football. Play to your strength, keep the urban, big city influence in hoops and play games in MSG, Philly, DC and Brooklyn's new digs.
Would the last one in the Big East, please mop up Bob Huggins' puke in the bathroom? Thanks.
Posted: D.A.
(adsbygoogle = window.adsbygoogle || []).push({});