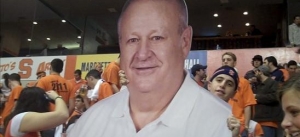 Bernie Fine molested an SU ball boy for years Рan allegation that makes Orange Nation's stomach churn and has forced Syracuse police to begin an investigation. Last week The Fizz asked whether the student displays that happened outside Joe Paterno's house could ever take place on the Syracuse campus. We posed, WWSD? (What Would Syracuse Do?) The story was to compare and contrast the legacy and public embrace of two college athletic titans  РJoePa and Jim Boeheim. Never did we expect that question to be horrifyingly prophetic. 
Hopefully, it won't come to this – a toxic soap opera of cover-ups, denial and internal protection. But it's our jobs as Syracuse alumni and fans to remain as sensitive to a case of child molestation at Penn State as at SU. For the last two weeks we publicly crucified Jerry Sandusky, unleashing verbal venom on a crime that is unthinkably horrific. IF… and we should use the IF… this turns out to be a true allegation, Orange fans cannot stand in support of Bernie Fine. We risk being the ultimate hypocrites, looking to protect everyone's children but our own.¬†Nor can we¬†rationalize or lessen the import of one or two victims, versus the widespread¬†pain that Sandusky allegedly inflicted. Every life is of the utmost importance.¬†A single¬†case of abuse is one too many.
IF… and we should use the IF… this turns out to be false, SU will still have been the first, but certainly not the last, athletic institution to feel the echo of the Penn State scandal. It seemed all along that the revelations from Happy Valley would unlock other cases, empower other abuse victims to tell their story. Some have believed the structure of youth, high school and college athletics may unfortunately be the type of situation this type of behavior could thrive in. The¬†silver lining¬†of PSU's horror¬†is it will allow others the¬†freedom to find strength. ¬†
It's incredibly early to say anything definitively. Let's just all hope Syracuse as a school, athletic department, student body and fans, handle this with far more sensitivity and grace than Penn State. Who knows if Boeheim knew anything (the victim suggests not). We have no idea if this is the first time the athletic department has heard of this. A former SU basketball player being police chief at the time the abuse was finally reported doesn't make this look any better.
But as fans, let's learn from the last two weeks and keep the victims as the priority. Let's hope Syracuse University has learned a lesson in the handling of such accusations as well. Because the spotlight is about to burn hotter than ever on the Hill. WWSD? Unfortunately, we may soon find out.
Posted: D.A.
(adsbygoogle = window.adsbygoogle || []).push({});