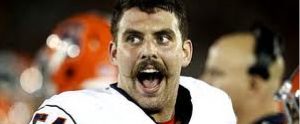 Syracuse basketball gears up tonight for its second game without Bernie Fine, while football is one day closer to its first without Phillip Thomas. Anybody who's watched the Orange knows Thomas has been the Orange's best player. The suspended free safety leads the team in tackles and interceptions. Clealry its going to take a team effort to replace Thomas, but here are three players who have to step up in order for SU to reach one more win and bowl eligibility.
Either Fisher or Jeremi Wilkes will be the direct replacement for Phillip ,so undoubtedly they are the first ones we'll look at. Wilkes has been up and down this year, making a few big plays but giving up even more via bad coverage and missed tackles. When Doug Marrone talked about injuries earlier in the year,¬†he would always mention Chan Jones and Fisher together.¬†Clearly he thinks highly of him. Fisher has played a lot in the box this year as a blitzer, and now we'Äôll see what he'Äôs got as a true safety. Expect to see Ritchy Desir too in the Okie package and Shafer'Äôs other 4 safety sets
SU'Äôs middle linebacker has been only average this year. He hasn't been a liability, but also hasn'Äôt made the impact plays we've expected. If he had, Phillip wouldn'Äôt have registered over 80 tackles in less than a full season. Spruill has split time with Siriki Diabate, but with Thomas out it'Äôs time for Spruill to develop into impact¬†MLB Orange fans have wanted.
Blocking SU's defensive ends was supposed to be a nightmare this year. Blocking Jones has. Blocking Marinovich has been easier for offensive lineman than it is for Lindsay Lohan to avoid jail. As discussed on Fizz Radio, Thomas leading the team in tackles is a flaw. A safety by nature is a last line of defense. For as many plays as Thomas made at the line of scrimmage, the front 7 needs to be there first. We have asked before where MIA Marinovich has been. He has barely been around the quarterback this season, and hasn't been productive against the run either. If Marinovich doesn't have a coming out party in these two games, they will be the last two SU plays this year.
There are plenty of signs Marrone'Äôs squad will win this weekend if you look hard enough. Marrone is undefeated off a bye and seemingly at his best when SU's backs are against the ropes. But ultimately,¬†players play and the Orange is down one of its best. These three players need to respond accordingly, or SU will be sitting home in late December.
Posted: Craig Hoffman
(adsbygoogle = window.adsbygoogle || []).push({});