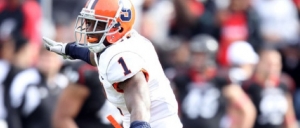 Doug Marrone already has off the field headaches to deal with before the season opener against Wake Forest, and now he can add on the field troubles as well. The injury bug has found its way to Central New York with multiple Syracuse players going down in the last week. Good news is it's still early enough to get players back. Bad news is the defense was already thin, even before 75% of the secondary took a hit.
Shamarko Thomas (concussion), Phillip Thomas (broken jaw), and Keon Lyn (dislocated shoulder) are all penciled in as starters for the defensive backfield, but are out of full contact drills at the moment. This can be a potential blow to this unit, even if all three return in time for Wake.
The Dougie made it clear at SU media day that leadership on defense is a huge concern. Someone has to step up and fill the void left by Doug Hogue and Derrell Smith and both Thomas' look like prime candidates. Philip told The Fizz at the Spring Game that he's ready to establish himself as the vocal point for the defensive unit.
"I'm trying to take that role to be a leader. I want the defense to feed off my energy. I try to communicate and be loud out there. Let them know what's going on. I just try to be a vocal leader, and a leader on and off the field. I think we can continue to bond as a whole."
But it's hard to be a leader on the field when you're sitting on the sideline with a broken jaw. With a group of inexperienced corners and linebackers this season, it is paramount to have a signal caller in the secondary – to place teammates in the right position pre-snap and create a cohesive unit. The only way to do that is by playing and practicing together and these weeks are critical in development before Week One. Shamarko is the same story since this defense needs his presence on the field. Not only was he productive last season, but he's also a potential leader.
If these players aren't healed by the Thursday night opener, who are their replacements? Both of last year's starting corners and Max Suter had to be replaced this offseason, so the secondary was already a question mark. The SU Athletics web site lists junior Ri'Shard Anderson and sophomore Joe Nassib as the second string corners behind Lyn and Kevyn Scott. Anderson hasn't seen the field since his freshman year due to a shoulder injury and Nassib hasn't played at all.
Syracuse does have talented freshman corners that can help patch up the secondary with Brandon Reddish, Jaston "8-pack" George and new Fizz favorite Ritchy Desir. But just like Ri'Shard and Joe, they all are inexperienced players that have not proven anything yet at the college ranks. At safety depth isn't that much better. Sophomore Jeremi Wilkes is the back up for Phillip and senior Olando Fisher is second string behind Shamarko. Wilkes played well last year, but that was at cornerback. He moved from CB to FS prior to spring practice. Fisher is only in his second season with the 'Cuse and saw time primarily on special teams last season.
While injuries are rarely a good thing, could this actually turn into a blessing in disguise for the Orange? If Phillip, Shamarko and Keon all miss a substantial amount of time before the first game, the inexperienced second-stringers will get reps and help build some appreciable depth. But both Thomases were beasts last season and are by far the most talented safeties on the roster. Without either of them off the field, this SU defense could get torn apart when it begins the season. Hopefully the injured Orange can get back by Wake Forest, or SU may start the season off on the wrong foot.
Posted: Dave Van Moffaert
(adsbygoogle = window.adsbygoogle || []).push({});