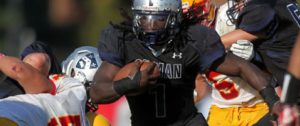 Adding insult to injury to this crippled Syracuse football season, 3-star RB Ken Goins, who had the Orange very high on his list a few weeks ago, admits he was always hoping for another option. He committed to nearby Maryland last week. It seemed for months his decision would come down to either SU or Tulane. That was before good ol' Randy Edsall finally offered the Baltimore stud a scholarship in mid-November. The former Orange is still finding ways to beat his alma mater.
When The Fizz talked with Goins back in October, the senior said Syracuse was number 1 on his list. We caught up with the DE/RB combo again recently, and apparently his heart was never with the Orange.
'ÄúI was just hoping I could just get another offer at some point. It didn'Äôt really matter who it was. I'Äôve always liked Maryland, so that was like the icing on the cake when they came. It was automatic when they offered me."
Maryland just finished one of the worst seasons in school history (2-10, 1-7), but geography won in the end. The 5'Äô10, 210 lb. senior said he 'Äúwasn'Äôt even expecting'Äù¬†the Terps to offer, and was surprised when he heard from them. But once Edsall's staff contacted Goins, he was very excited about the opportunity to remain in his home state. Goins admitted that Syracuse was a bit far, and he was much more eager to play for the Terps.
'ÄúI'Äôm proud to be representing my home state, and there is nothing better than that. Staying close to home was a very big factor, too."
The good news is SU still has two running backs on its radar, Boom Perkins and George Morris, as targets before Signing Day. But losing Goins is tough because he's an extremely explosive player with fantastic athleticism. He played on both sides of the ball for most of his career at Gilman. Goins'Äô coach Hank Russell can vouch for how impactful the senior was in leading his squad to its conference championship.
"He's extremely quick off the ball, and has great acceleration. He is an extremely physical player, and when he hits you, you'll know it. He's elusive and gets around blocks, and he can speed and power rush you, because he has a bunch of different moves he uses very well."
The incoming Orange backfield has been in flux recently. SU appeared to have rescinded its offer to another 3-star tailback in Lakeith Walls a few weeks ago. The only RB the Orange has committed for the class of 2012 is DeVante McFarlane, who tabbed SU way back in June. This makes landing Boom or Morris of huge importance. The Fizz has put the odds of Morris wearing Orange at 80%, but Perkins only 25%.
It'Äôs tough to find out Goins was really just hoping for a better school to offer as we sit less than two months from National Signing Day.¬†And the fact it was ol' frenemy Edsall makes it that much tougher to swallow. But the Orange will get its crack at both Goins and Edsall in just a few years when it moves to the ACC – assuming Randy still has a job.
Posted: Kevin Fitzgerald 
Photo: Baltimore Sun
(adsbygoogle = window.adsbygoogle || []).push({});