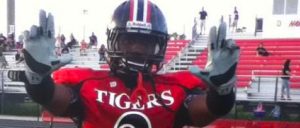 As recently as last week, 3-star RB Lakeith Walls had Syracuse as one of his top 5 schools, and was looking forward to making his visit to campus next month. Now, that's all changed. Orange alum and Scout.com reporter John Garcia Jr. tells The Fizz after Walls talked with Tyrone Wheatley last week to tell him SU was out of the mix, the senior said it just wasn't meant to be.
"[Wheatley] pretty much informed [Walls] that it was becoming close to capacity as far as scholarships. He was being recruited by Syracuse as a running back, other schools are looking at him as a linebacker. So as a running back, they determined that it probably wasn't a good idea to recruit him any further. Either that, or he got rubbed the wrong way from the conversation, and he ended up saying they weren't on his radar anymore."
Garcia said that there were "no hard feelings" between Walls and Wheatley, but the 6'3" 200 lb. Walls was adamant it wasn't going to work out. It's hard to believe Wheatley may have blundered, considering his recent recruiting tear, but the whole situation is fishy. Walls' head coach, Phillip Gary, from James Ford Rhodes High School in Ohio said Syracuse "would have been a good fit" for Lakeith.
But a crunch on scholarships has already forced SU to pull out of the Tyrone Neal race, a LB who likely would have chosen Orange over Nebraska and West Virginia. Did Syracuse shoot itself on another talented player? Walls'Äô comment about SU'Äôs cluttered '12 class is a red flag.¬†Although the LB position has been filled up for next year, there's¬†only one other running back locked up. Something happened last week, and Garcia said the situation is a bit of a mystery.
"There really hasn't been a lot of buzz for Syracuse football recruiting over the last 48 hours or so. So either there's some under the radar commitments that we haven't dug up yet, or there's a conflict between the running back situation and the recruiting process."
This all happened a day before Walls made his official visit to Louisville this weekend, ¬†that same Cardinals team¬†that kick-started Syracuse's crash a few weeks ago. To pour more salt in the wound, Walls wasn't blown away by UofL. According to Garcia, Walls was enthusiastic about his visit, but Coach Gary said it didn'Äôt go over so well.
"The visit was okay.  He definitely wasn't as excited as I thought he would be."
It was a three-horse race between Louisville, NC State and Cincinnati for Walls before the visit, and Gary now thinks Walls will most likely sign with the Wolfpack by the end of the week.
But the question remains for Syracuse: what happened? Walls' timing and reasoning doesn'Äôt seem to fit the puzzle.¬†There had been consideration of him playing LB at the next level, but his heart is set on RB. Did SU tell him he wouldn't have the chance to play either on the Hill? Is Doug Marrone adamant on honoring previous offers and earlier commits, even if they're to less talented players? Did the relationship between¬†Walls and Wheatley disintegrate? Whatever it was, this could be a disconcerting trend for Syracuse fans with two months to go before National Signing Day.
Posted: Kevin Fitzgerald
(adsbygoogle = window.adsbygoogle || []).push({});