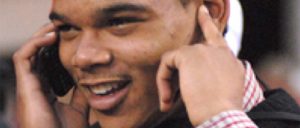 The Fizz has learned Syracuse has retracted its scholarship offer to linebacker Tyrone Neal. Last week it looked as though Neal had narrowed down his list to three schools - Nebraska, West Virginia and Syracuse. However, Neal's head coach, Jim Ward, tells The Fizz the Orange removed itself for the services of the middle linebacker as the '12 class for SU fills up.
"Syracuse was a school he had very high on his list but they are not sure about taking another linebacker (for the '12 class), which would obviously stop Tyrone from going to Syracuse. He had an affection towards Syracuse but I don't know if that is going to work out in terms of numbers."
So SU is essentially off Neal's list. The race is now between Nebraska, Illinois, Texas Tech and West Virginia to land the blitz happy linebacker, according to Ward. Tyrone had strong feelings toward the Orange and his recruiter Dan Conley.
"He had a great rapport with Dan and I think that was a little disappointing in terms of where they had to put their final scholarships. There is a lot of trust and respect coming into the door that you don't always get coming from a college coach. They did a phenomenal job in recruiting Tyrone and I believe at one point, even up until the end, Syracuse was probably number one."
It's disappointing that Neal had the Orange at the top of his list and SU couldn'Äôt reel him because of numbers. Tyrone is a three-star talent and a very effective blitzer. Scott Shafer could have had another weapon to pressure the quarterback.
But numbers prevent SU from adding another linebacker. The Orange's verbal commits at the position include ¬†James Washington (FL),¬†Darius Parson (VA),¬†Leroy Owens (FL),Myles Davis (Milford Academy)¬†and¬†Tashon Whitehurst (FL). With five commits already at linebacker, SU doesn'Äôt want to add yet another. Syracuse has also had success converting athletes to the position in Dyshawn Davis, Doug Hogue, and Derrell Smith.
Who's left to fill the rest of the SU class? The Orange has 21 verbal commits to date. There are two, maybe three, openings left. Syracuse will leave a spot open for Boom Perkins, after his recent de-commit from Notre Dame. Running back George Morris is also high on the 'Cuse list with an official visit set up for early December. The Syracuse class for '12 is starting to clarify, but it looks like Neal will not be part of it.
Post: Dave Van Moffaert
(adsbygoogle = window.adsbygoogle || []).push({});